Storms this season have caused more than $12 billion in damage, and are expected to shave a full percentage point off the country's GDP this year.
Since the El Niño weather pattern started its periodic visit to Peru last November, Peruvian economic projections for 2017 are suffering a change for worse, just like the lives of many of its citizens. Although weaker than other recent visits, the natural phenomenon has caused more destruction and left a reconstruction bill of $12 billion to $15 billion, according to the Ministry of Finance.
Peru's GDP, which was growing rapidly and sustainably in recent years, should suffer a negative impact of more than one percentage point this year. Late in 2016, the Ministry of Finance projected GDP growth of 3.8% for 2017. After disappointing growth in the first quarter, the outlook was reduced to 3% for this year.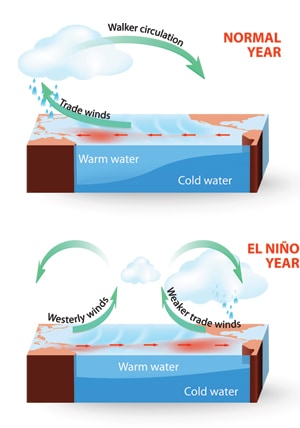 Consulting firm Maximixe projects Peru's GDP should expand only 2%. And the projections may fall further. El Niño storms and floods so far have destroyed 47 bridges, 2,629 kilometers of highway, 198,000 houses and part of the agricultural sector.
Peru is facing the consequences of lower consumer and investor confidence after a bribery scandal involving Brazilian construction firm Odebrecht and top officials such as former president Alejandro Toledo, and the low expectations for the current administration of president Pedro Pablo Kucynski.
"There is high distrust in our political class, which is contaminating the performance of the real economy," says Henry Alvarez, business and markets intelligence manager at Maximixe.
The drop in domestic consumption will make it difficult to meet 2017 revenue projections. The budget capacity to deal with these expenses is limited, so the reconstruction plan may be financed by the country's Fiscal Stabilization Fund and multilateral banks.
For 2018, however, the Peruvian outlook can improve if the reconstruction plan is successfully implemented and some key sectors bolster investment. Both the government and economic analysts are projecting GDP growth around 4% next year. "The rebound of activity during the last quarter of 2017 can wake up some sectors, improve the economic expectations and boost GDP in 2018," Alvarez concludes.