Tesla's CEO in damage-control mode.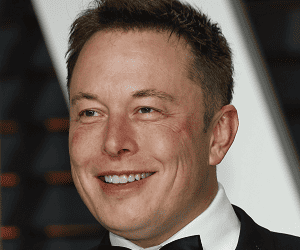 Some days it seems Tesla is careening off the guardrails. On September 29, CEO Elon Muskstepped down as chairman and agreed to pay a fine of $20 millionin a deal with the SEC to resolve securities fraud charges stemming from a tweet.On September 7, a month after CEO Elon Musk suggested on Twitter that he was taking the company private, he smoked marijuana on YouTube. Dave Morton, the chief accounting officer Musk had lured away from Seagate Technology, quit before he could collect his second paycheck. Morton was the one who had to break it to the boss that going private is harder than it sounds; CNBC reports that his failure to be heard contributed to his departure. That morning, human resources director Gabrielle Toledano also made her resignation official.
So it was a relief to employees and investors alike when Musk announced toward the end of that day the promotion of 46-year-old Jerome Guillen to the newly created post of automotive division president. The French-born, Spanish-educated, German-trained engineer, who holds a doctorate from the University of Michigan, will be responsible for all Tesla operations unrelated to energy generation, energy storage or solar power: That is, he will run roughly 85% of the company as measured by revenue.
Guillen will be in charge of the assembly lines that churn out the planned Semi and Roadster models, but his immediate challenge is to remove the production bottlenecks that prevent Tesla from keeping up with demand for its popular Model 3.
In 2010, Guillen left Daimler for Tesla, where he headed up the Model S program; Motor Trend recognized his handiwork with 2013's Car of the Year award. Meanwhile, Musk recognized him with a promotion to vice president and the challenge of building a sales-and-service network practically from the ground up.
Bruce Gain, an Automotive News reporter who knows Guillen and has followed his rise, says he is "very low-key and very, very intelligent—a little standoffish." He recalls meeting Guillen at a 2014 trade show and coming away with the impression that he is driven by an intense sense of mission.
"Rather than auto-industry talk, he was talking about the [environmental] benefits of electric cars," Gain says. While discussing the prospect of global warming should the world continue to depend on fossil-fuel-burning vehicles, Guillen "made this scare reference: 'Someday, we may all cook.'"
While Guillen's promotion is noteworthy in its own right, it is part of a larger reshuffling of executive portfolios at Tesla. Five other executive promotions were announced in the same September 7 Musk email.