MILESTONES: EUROPE
By Anita Hawser
How many central securities depositories (CSDs) does Europe need? The European Commission and the European Central Bank believe it is far fewer than the 40 CSDs currently scattered across the continent.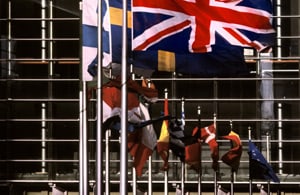 The EC: Yet to realize its vision for a single financial market
Concerned that the fragmented nature of securities settlement infrastructures in Europe is pushing up cross-border post-trade costs, the two groups are promoting the idea of a centralized system. "Cross-border clearing and settlement costs are up to six times higher than those for domestic settlements," stated Paulina Dejmek, a member of the cabinet of the EC's commission on internal markets, at a conference in London in May. "If you are serious about the internal market, this is plainly unacceptable," she added.
The EC believes clearing and settlement should be no more costly in a cross-border environment within Europe than in a domestic environment. Europe is often compared with the US market, where securities settlement is handled by one entity, although few believe that Europe's more than 40 CSDs will be rationalized down to just one.
In an effort to prompt consolidation, the European Central Bank will launch a central settlement mechanism for eurozone securities in 2014. Called Target2-Securities (T2S), the new mechanism will see the CSDs that sign up to it hand over settlement to the ECB's new infrastructure. Helmut Wacket, head of the T2S External Stakeholder Management section at the European Central Bank, says CSDs will have to focus on delivering additional services other than settlement, which means they could start servicing the assets that other CSDs in Europe issue.
In response to T2S, some European CSDs have expressed an interest in becoming banks, but that will put them in direct competition with custodians or agent banks, which are also their customers. "The banking issue is a complex one," says Paul Symons, a director at Euroclear, a Brussels-based international CSD. "Will the customers or stakeholders of CSDs within Europe be willing to see the recapitalization of CSDs to offer these [banking] services?" As one leading European custodian banker pointed out, "I don't want to pay for a CSD's banking services."