NEWSMAKERS: EUROPE
By Justin Keay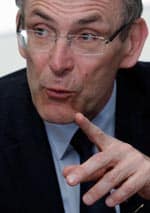 Piebalgs: Pressing Europeans to give more
Spare a thought for Andris Piebalgs, the EU's development commissioner. At a time when politicians across Europe are telling people to tighten their belts during the toughest fiscal retrenchment in living memory, Piebalgs has a different task: encouraging them to spend more. In early December in Brussels he hosted the sixth European Development Days (EDD) event, a sprawling two-day development fest aimed at encouraging member states to hand over at least 0.7% (0.33% for new member states) of their annual gross national income to aid developing countries by 2015.
With a record number of attendees—reportedly some 6,000, with 500 members of the media—the event was a success, with Zimbabwe's Morgan Tsvangirai and Rwanda's Paul Kagame, not to mention EU Parliament head Jerzy Buzek and IMF chief Dominique Strauss-Kahn, all lending their weight to the plan. And some made important points: Buzek, about the need for ambitious, people-oriented policies to be sustainable and consistent; Strauss-Kahn, about the importance of continued growth to the success of development aid plans.
Europe is already better than most regions at supporting developing nations, not just through charitable donations but through commerce. Europe's trade with Africa is worth €212 billion a year, dwarfing China's €62 billion, and 70% of all EU agricultural imports are from developing countries, most entering quota- and tariff-free. Billions of euros each year are spent on development projects in Africa and other regions, at the multilateral and bilateral level.
So just how realistic is it to expect crisis-battered EU countries to open their wallets when their own living standards and public services are taking such a beating? Nobody seemed to have a clear answer, but few can be as aware of the ironies as Piebalgs. In 2009, GDP in his native Latvia shrank by a painful 18% with unemployment rising to 23%, the highest rate in the EU. Amid unprecedented austerity measures, Latvia was expecting to see another GDP decline of around 3.5% in 2010. Against such a backdrop, one could understand Latvians—and other recession-battered Europeans—finding the concerns of the EDD and its 6,000 attendees somewhat less pressing than in happier economic times.