A European regulator with a tough reputation now has responsibility over the moral, ethical, and political dimensions of what tech companies do.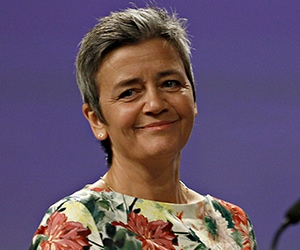 Margrethe Vestager has built up a formidable reputation in her job as the European commissioner for competition, in which she has fought hard to establish a level playing field for all, especially in the digital sector.
Donald Trump dubbed the 51-year-old Dane the "tax lady," claiming she "hates the US," after the European Commission imposed multibillion dollar fines on US tech giants such as Google and Apple for breaching EU competition and tax rules.
Brussels observers say Vestager has a "star quality." Unlike most Eurocrats, she is able to communicate complex issues in straightforward language that can be readily understood by voters across Europe.
Her commitment to values such as fairness may derive from her upbringing: Her parents are both Lutheran pastors. A trained economist, Vestager rose swiftly in Danish politics to become leader of the Social Liberal Party and, in 2011, minister for economic and interior affairs.
Upon becoming the EU's "competition czar" in 2014, Vestager wasted no time in tackling what many in Europe saw as flagrant abuses. Among other actions, she slapped a record €4.3 billion ($4.7 billion) fine on Google for forcing manufacturers to preinstall Chrome and Google Search on Android-equipped phones.
She also put Silicon Valley giants' use of tax havens and legal loopholes under fierce scrutiny. Apple was told to pay over €13 billion in back taxes plus interest, after accepting illegal tax benefits from Ireland. Amazon was ordered to pay €250 million in back taxes to Luxembourg. Chipmaker Qualcomm was fined €997 million for paying Apple not to buy chips from other companies.
Now, as an executive vice president, Vestager is higher in the EC hierarchy and has broader regulatory powers over the tech sector. She retains her oversight of anticompetitive practices, and her remit now also extends to the many moral, ethical and political issues that have arisen with social media.
Her approach is likely to continue to be based on such fundamental values as fairness, and whether a given tech company and its practices meet required standards—as in the case of Facebook, whose Libra cryptocurrency is now under investigation.