Kazakhstan has immense energy reserves, but its government is determined to diversify the countrys economy. Its efforts are bearing fruitslowly.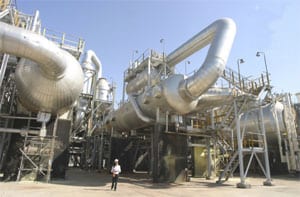 With enormous untapped fossil fuel reserves and several major oil and gas projects set to begin operation over the next few years, Kazakhstan is in line to become one of the worlds largest exporters of oil over the next decade. This Central Asia nation of more than 15 million people has attracted many of the worlds major energy companies to its oil and gas fields, and foreign direct investment in the sector now totals between $3 billion and $4 billion a year.
Wary of relying solely on its energy wealth, however, the government of President Nursultan Nazarbaev is intent on expanding Kazakhstans economy into other areas, from agriculture and food processing to transportation and consumer goods. To make this shift from the reliance on the oil and gas sector, which accounts for about one-quarter of the countrys gross domestic product, the government has created several development agencies to support private sector projects. The agencies include the Development Bank of Kazakhstan (DBK), the Investment Fund of Kazakhstan, the Innovation Fund and the Export Credit Corporation.
So far, though, loans to the private sector have been limited. DBK, for example, made only $268.3 million worth of loans in 2003, according to ratings agency Standard & Poors. The major portion of the loansnearly 32%was earmarked for agriculture and food processing businesses. Nearly 30% went to transport and communications infrastructure, while rubber and plastics goods industries received 14.4% and textiles slightly more than 10%.
Theres great opportunities in agriculture, such as producing wheat and cotton, as well as in agro-businesses, says Marc Luchand, associate director of sovereign ratings at Standard & Poors in London. But, he says, developing viable consumer products in Kazakhstan will be difficult because the locally produced goods must compete with less expensive imported items.
Early last month, the Kazakh government announced it was setting up a special economic zone in the south to tap into the regions textile and cotton industries. Government officials say they hope to create a cluster of textile-related industries in this cotton-producing region that will help break the countrys dependence on imported textile products. Businesses operating in the economic zone, which will be called Ontustik or South, will receive corporate tax breaks.

Foreign Investment Is Slow To Arrive

Analysts say the jury is still out on whether the development agencies efforts at diversifying Kazakhstans economy will be successful. It is really too early to tell, as they have only been created in the last few years, says Sharon Raj, a director in the sovereign department at Fitch Ratings in London. Certainly economic statistics show that the non-oil sectors have been doing well recently, but critics would say that this could simply be due to the favorable international environment and the spillover of high oil prices.
Gary Litman, vice president for Europe and Eurasia at the US Chamber of Commerce in Washington, says the government has not been very successful in either attracting foreign investment into the non-oil and metals industry or in persuading locals to set up shop. Litman believes there is a lack of entrepreneurial spirit among most Kazakh citizens. Its a cultural issue, he says. They made a huge leap into the 21st century after the Soviet era, and then, with the oil affluence, they felt they were entitled to the proceeds without being entrepreneurial themselves. They have not developed an entrepreneurial class.
Litman adds that one bright spot is a government program that has been sending thousands of graduate students abroad each year for the past three to four years. The government is funding graduate education for the best and the brightest, and they are going to the best business schools, says Litman. Many return home to work in government ministries or in commerce.
Foreign organizations are also establishing initiatives aimed at promoting the country. This September, for example, the US embassy in Kazakhstan is teaming up with several US business groups to host a conference in San Diego that will focus on business opportunities in the former Soviet republic. Government ministers from Kazakhstan are to discuss opportunities in information technology, telecommunications, healthcare and other sectors.
As the government works to diversify the economy, the countrys oil sector and the increase in world oil prices is keeping its economic outlook bright. Economic growth in this giant nation, about the size of Western Europe, topped 9% last year and is expected to increase by at least 8% this year as inflation remains steady at 6.5%.
Analysts laud economic officials for adhering to a tight fiscal and monetary policy that has led to strong macroeconomic indicators and little government debt. And while the government and its people may not be pushing for much change, analysts like its stability. The political leadership is stable, says Jonathan Schiffer, senior credit officer at Moodys Investors Service in New York City.
The country also has a strong banking system that is well regulated and not fragmented, with the three largest banks accounting for nearly 70% of banking assets. Direct government involvement in the banking sector is limited. Litman says the banks are not risk-takers, and there is not much loan activity to companies without tangible assets. Foreign firms have expressed minimal interest in the banking sector, although Litman believes the government would welcome foreign investment. Kazakh banks need the know-how and capital and technology, he says.
Luchand at Standard & Poors believes the government could help encourage the development of private enterprises by getting rid of the red tape, corruption and tax problems that interfere with the businesses. If youre not a big guy, dealing with all the authorities can be difficultand even a bit dangerous for the little guy, he says.
Corruption is a big issue. Kazakhstan scored 2.2 out of a possible 10 in the 2004 Corruption Perceptions Index, which is published by Transparency International, a Berlin-based group that fights corruption worldwide. Its like Russia: There is corruption and demands for bribes at all levels, says Dick McCormack, a senior adviser at the Center for Strategic and International Studies in Washington. Theres not the same legal protections that other companies have in other places.
Yet officials at ChevronTexaco remain undeterred. The giant oil company is Kazakhstans leading oil producer and has been operating in the country since 1993 when it became a partner in the Tengizchevroil (TCO) venture. Today, ChevronTexaco has a 50% stake in TCO, which produces about 280,000 barrels of oil and 298 million cubic feet of natural gas per day. The San Ramon, California-based oil company is committed to financing half of a $4 billion expansion project of TCO. It also has a 20% equity interest in the countrys other large oil field, Karachaganak.
Weve always had an excellent relationship with the government, says company spokesperson Don Campbell. That relationship has been beneficial to Chevron and to the Kazakh people. And it is exactly the sort of relationship that the country is looking to build in other sectors.

Paula L. Green