Brazil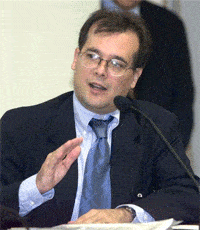 Franco: Upgrade would boost markets


Brazil is gradually improving its sovereign debt credit rating. When and how will it reach investment grade?




Gustavo Franco, a well-respected former president of Brazils central bank who now works as executive director of Rio Bravo Asset Management, has no doubts as to the benefits of Brazils achieving investment grade by the international credit rating bureaus. [An upgrade] would result in a major boost for capital markets and, more importantly, a major multiplication of asset values in Brazil, he says. It will bring a sustained and significant decrease in the cost of capital in Brazil, and, with that, the denominator for all valuations of assets in Brazil will be reduced and consequently values will increaseby very significant multiples.
So much for the benefits. The question remains whetherand whenBrazil might achieve investment grade. Were not expecting anything quickly, says Lisa Schineller, the primary credit analyst at Standard & Poors. In order for Brazil to reach investment grade, the country must first reduce its debt, interest and tax rates, reform social security further and reduce the rigidity of government expenditures, she says.
Although it has reduced its debt significantly in recent years, Brazil still has a net debt ratio of 47% of GDP, which is considerably higher than its peers, according to Standard & Poors. By comparison, Mexico has a net debt ratio of 31% of GDP. Ratings agency Moodys explains why the debt ratio is so crucial for improving Brazils rating. A positive credit outlook contemplates that favorable trends observed to date will be preserved leading to further reductions in Brazils overall debt burden over time, the agency said in its latest credit opinion on Brazil, released in June.
In February Standard & Poors raised its long-term sovereign credit ratings on Brazil. The upgrade recognized the countrys better-than-expected financial status, with higher international reserves and lower debt than forecast. And despite the recent volatility in international capital markets and the March change of finance minister in Brazil, the positive trend has continued, Schineller says.
But the process of getting the necessary reforms implemented will likely be slow and require alliances across party borders, independent of the outcome of the October presidential elections, Schineller warns. President Luiz Incio Lula da Silva is the favorite but faces increased competition from So Paulo governor Geraldo Alckmin.
Its going to be very politically challenging, Schineller says. Be it Alckmin or Lula, its [going to be] hard, because you have to build coalitions across parties and potentially work with the opposition to get something good passed.
Moodys is looking out for signs of increased government spending, coupled with weaker-than-expected tax revenues. While minor deviations in the primary surplus do not pose an immediate risk to Brazils near-term credit outlook, the medium-term credit perspective may be compromised, the rating agency says.
However, many investors have already factored the possible upgrade into their valuation of Brazilian stocks, Franco says. Everybody thinks right now that the bull market we have had for the past year or so was very significantly influenced by this talk about investment grade, he says. The fact that this already happened helps because it makes clear that there is a bonus in working toward achieving investment grade sooner.

Joachim Bamrud