New legislation paves the way for the elimination of the 40 billion checks in circulation in the US today.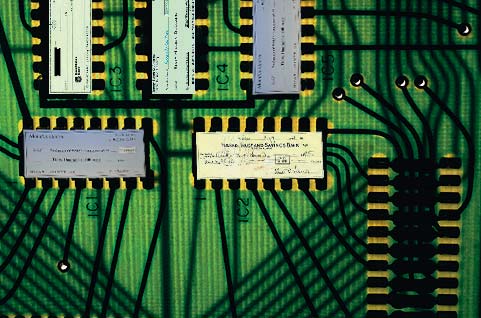 It has been likened to the stampede that surrounded Y2K as banks invested millions preparing their computer systems to counteract the social and economic impact of the Millennium Bug. The Check Clearing for the 21st Century Act (Check 21), which took effect October 28, requires paying banks to accept paper reproductions or a substitute check created from images of the originals. The Act gives these substitute checks, also known as image replacement documents (IRDs), the same legal status as the original paper check.
Check 21 was enacted in response to the terrorist attacks of September 11, 2001, which brought the check processing system to a halt as checks could not be physically transported between banks. However, the longer-term ramifications of the legislation are far reaching in terms of the impact it will have on check processing volumes and reducing the costs associated with traditional check clearing, with some anticipating it will pave the way for electronic settlement of the 40 billion checks that are in circulation in the US today. For banks it effectively changes everything associated with traditional back-shop processing of physical checks and virtually eliminates many of the processes needed to physically handle paper, states Jerry Silva, an analyst at TowerGroup.While Check 21 is not necessarily a global phenomenon, it does have implications for international companies as it applies to all USD checks drawn on domestic banks, including money orders, travelers and treasury checks. It is also likely to instigate a shake-up among the major US clearing banks, with the larger banks investing millions in check imaging technology so that they can not only receive substitute checks or IRDs but send them as well. For other banks, however, the cost of supporting the existing legacy checkprocessing infrastructure, while investing in new technology, may be too much to contemplate. And as paper check volumes continue to decline at a rate of 3% per year, some may decide to exit the check clearing business altogether and outsource it to a larger-scale provider.

Seamless Transition for Customers


For banks customers, however, from October 28 it will be business as usual. Compliance with Check 21 is an issue for the banks; the customer doesnt need to do anything, says Stephanie Sturgis- Griffin, senior vice president,Wells Fargo. The biggest change, she says, is those companies that disburse checks for payment may receive the IRD or substitute check back in account statements or as returned items instead of the original check.

From a collections perspective, there will be enhancements, as banks will be able to provide a more customized solution to clients with specialized needs, notes Jeff Oleske, director, Citigroup Global Transaction Services. Ultimately, Check 21 could pave the way for banks to provide customers with alternative and more efficient clearing mechanisms such as electronic check processing. JPMorgan is developing capabilities that will allow customers to send an electronic file into a bank instead of a check. If it is Account Receivables Conversion (ARC) compliant, it can be processed electronically as an ACH debit. However, Craig Vaream, vice president, senior product manager, check deposit services, JPMorgan Treasury Services, says this is unlikely to take off until check imaging volumes increase.

Oleske believes the real benefits of Check 21 in terms of promoting the use of electronic check deposits will only become apparent once full image exchange of checks is in place, eliminating paper from the process altogether. Although Check 21 promotes the use of check imaging, it does not specify that the paying bank needs to receive image files. All they need to accept is a paper reproduction or substitute of the original check.

However, those banks that have invested in full check imaging, which allows for the bilateral exchange of check images without having to make a substitute copy of the original paper check, maintain that IRDs do not facilitate the transition to full electronic check presentment. Citigroups Oleske says that full image exchange will also remove a lot of cost of float within the system generally but that there was likely to be a three- to five-year time horizon before this occurred. Early next year JPMorgan will launch remote capture sites in Europe and Asia that will allow international customers of the bank to reduce the risks and costs associated with physically transporting checks to the US.There are significant risk issues addressed by Check 21, explains Lisa Robins, senior vice president, global check deposit services, JPMorgan Treasury Services.There is also the opportunity to shorten check clearing timeframes and enhance the ability to forecast cash flows.

Instead of waiting for the check to be physically transported to the paying bank, full image exchange would speed up the clearing and processing of checks, allowing companies to more accurately predict cash flows and enhance working capital.Wells Fargos Sturgis-Griffin anticipates that full image exchange will also enrich the information banks are able to provide around cash reporting. Customers will be able to do more robust and richer downloads of information into their ERP systems, she predicts. It will help not only in terms of cash forecasting but also in reducing the number of exceptions, which is the most expensive part of the transaction process.

No Big Bang


While Check 21 presents numerous opportunities for banksenhanced risk management, reduced costs, among others these must be weighed against the immediate challenges of implementation. The technology investment in imaging technology and micro ink printers is not inconsiderable. If an institution hasnt been investing in this infrastructure in the last few years, it is quite a leap to move from a full paper-based process to an image- based process. says Citigroups Oleske. For the larger clearing banks, though, their investment in full check imaging capabilities is somewhat of a double-edged sword. While they may have acquired the technology and expertise, not all banks enjoy the same level of preparedness, and until they do, full check imaging is unlikely to achieve critical mass.The biggest challenge now is getting banks ready to send and receive images, says JPMorgans Vaream. The reality is that there wont be a Big Bang migration to full check imaging. We are a leader in image exchange capabilities, says Robins of JPMorgan. That being said, full image exchange of checks is not going to happen from day one.There are still approximately 40 billion checks in circulation in the US, which is declining at a rate of 3% per year, and until the industry comes up with something better, they are not going to disappear. While Check 21 may be a catalyst for full image exchange, Citigroups Oleske says the legislation was not designed to stop the writing of checks. He says although most payers had the ability to initiate payments electronically, their systems were still geared toward issuing paper checks.

Challenges also remain around IRDs in terms of ensuring that the substitute check is a faithful reproduction of the original. The substitute or IRD must provide a full image of the front and back of the original check and should include micro magnetic ink coding. There are some concerns in the industry that these standards might not be met in terms of the IRD itself, Oleske explains. Some of these concerns have been mitigated by technological advances and the use of positive pay facilities, whereby corporates send a file to the bank containing information about checks they have issued, which are then verified.

The industry faces a multitude of challenges as we enter this new environment of clearing checks electronically, says Sturgis-Griffin. We need to have image quality standards that are universal rather than someones judgment as to whether or not an image is usable or not. We have to manage this without introducing added risk and damaging the integrity of the payment system.

ANITA HAWSER