Eastern promise



Kazakhstans abundant natural resources and stable political environment have made it a favorite among international investors.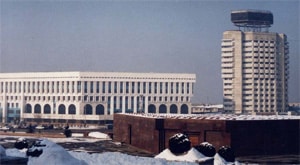 With a strong economy, a highly stable political environment and a history of sensible economic reforms and conservative fiscal policies, Kazakhstan is much loved by international investors. The government has an active privatization plan, offering choice assets and contracts for foreign investors. The banking and financial infrastructure is arguably the best across former CIS countries, and the strength of the market is demonstrated by the increasingly sophisticated debt structures being used by Kazakhstan companiesfrom accessing the international capital markets to taking advantage of classic structured financing techniques.
While the overall political structure is stable, there are some underlying tensions. Kazakhstans president, Nursultan Nazarbayev, was re-elected to his third-straight seven-year term last December. He and the policy makers in the government and central bank who are responsible for economic and fiscal policy maintain a conservative stance that is a hit with investors. But behind the political framework is an election system with questionable impartiality that was marked by the death of two political opponents of the president in just three months.
Luc Marchand, analyst at Standard & Poors, says that as a result of the highly centralized nature of its political system, risks associated with leadership succession and transition are higher in Kazakhstan than in some comparable countries. The political opposition is relatively weak, however, and the regime of President Nazarbayev is comparatively stable. Moreover, there is a broad consensus within the political elite for market-oriented policies and reforms, he says.

Kazakhstan began to be an area of interest for international investors between 1995 and 1997 when the government instituted major economic reforms and kicked off a fast-paced program of privatization. The country grew strongly between 2000 and 2005, achieving GDP growth levels of 9% or more for most of that time, with continued economic reforms and a flourishing energy sector encouraging private sector development and attracting foreign investment.
This was strengthened with the opening of the Caspian Consortium pipeline in 2001 and the commencement of construction on another pipelinefrom the Caspian Sea to the Chinese borderin collaboration with the Chinese government. The Kazakhstan-China pipeline began operation in May this year.

Government Reviews Contracts


Rigterink:Tier-two banks are starting to have access to the bond markets

The government has faced some criticism recently as a result of disputes between regulators and foreign entities with operations in the country. The disputes center on the terms included in production agreements set up between the government and certain foreign firms in the mid-1990s, among other things. This has put some slight downward pressure on FDI as investors wait to see what the outcome of such disputes will be.
Jonathan Schiffer, an analyst at Moodys, says the Kazakhstan government has taken a lot of criticism but has not done anything as yet to shake investors confidence. He explains: When the first wave of foreign investors came in the early 1990s, they were welcomed in Kazakhstan. They invested in big-name oil projects, and they also invested in mining and precious metals. As the economy found its feet, the political elite in Kazakhstan started to realize they had given very advantageous contracts to foreigners; basically they realized they had sold the crown jewels cheaply.
As a result, Schiffer says, they have started to clamp down on foreign investors. In most cases they have simply said that these contracts were highway robbery, and when they expireover the next five or 10 yearsthe terms of renewal will be much less favorable, he says. One of the most important things the Kazakhstan government has done, however, is to not break any of these existing contracts, even though many were extremely unfair to Kazakhstan.

It did cause much misunderstanding and some threats, according to Schiffer, but to date the contracts are being honored on both sides. Kazakhstan is now working on a policy to encourage light industry in order to reduce dependence on oil and gas revenues. As part of that process, the government set up the Development Bank of Kazakhstan in 2001 to help support smaller businesses. They have set up seed funds to help small rural groups to set up small business, says Schiffer, and it has worked very well, with the non-energy sector growing at about 8%. This year the bank announced plans to invest $200 million in intra-CIS projects.
According to Marchand, FDI is expected to remain high despite the difficult negotiations with major investors. Inflows reached about 13.7% of GDP in 2004 and are expected to remain at least 8% to 9% of GDP at least in the near term, he says. The main areas of interest for foreign investors continue to be, not surprisingly, oil and gas. A number of other natural resources and some of Kazakhstans industries are also attracting increasing investment. Jurgen Rigterink, chairman of ABN AMRO Kazakhstan, says: Over the past couple of years we have seen most foreign direct investment in the oil and gas, petrochemicals, metals and mining sectors. In addition, this year we have also seen some construction-related investmentsconstruction projects, cements and so on.
Outside greenfield projects, international investors have also been quite keen on picking up existing assets as they come available. For example, Kazakhmysthe largest copper producer in Kazakhstan and the 10th largest globallylaunched a highly oversubscribed IPO in October last year. The company sold a 25% stake on the London Stock Exchange, which brought in more than 600 million gross proceeds. A 15% greenshoe option was also fully exercised, which allowed the company to sell more shares than it originally offered for sale.
Over the coming year a number of choice assets are expected to come available, primarily through the equity markets and IPOs. The government has various privatization projects under way, most importantly the sale of some pieces of KazMunaiGasthe holding company for state-owned oil and gas assets. One such sale is the much talked-about IPO offering 49% of shares in Razvedka Dobycha, the companys exploration and production unit, which is currently in the works.
One banker notes the macroeconomic fundamentals are quite strong. We believe GDP growth will continue to be in the 8% to 10% range, he says. The country has very prudent fiscal and monetary policies, low government debt levels and a quite stable political system. As a result, international investors can and will continue to have confidence in the country. It is the largest recipient of foreign direct investment per capita in the former CIS, with a number of large oil projectsand indeed other projectscoming up this year and next, this banker says.
Schiffer at Moodys adds: Kazakhstan has managed to be on good terms with everyone. They are working with China on the pipeline to the east, they are swapping oil with Iran in the south, they have joined the pipeline under the Caspian Sea to European markets, and they operate through the Russian pipeline. As a result, everyone is happy with Kazakhstan.

Of all the former CIS countries, Kazakhstan has the most sophisticated banking and financial markets. Rigterink explains: Many tier-one banks have already accessed the international debt capital markets, and as of late last year we are also starting to see tier-two banks having access to the bond markets. This demonstrates not only the increasing sophistication of the financial industry, but also the positive view of international debt investors on Kazakhstans banking institutions. We do see this trend continuing as well, Rigterink says.

However, according to Ekaterina Trofimova, an analyst at Standard & Poors, the development of the domestic Kazakh stock and bond market has lagged behind that of the banking system. The limited range of liquid investment instruments constrains banks liquidity management, she says. Kazakh banks are not allowed to invest in foreign securities with ratings below triple-B, while highly rated securities do not provide sufficient returns.

Outside the domestic market, Kazakh companies are starting to have access to new products and structures. January saw the first securitization transaction for a Kazakhstan company when a Bank TuranAlem subsidiary, BTA Ipoteka, launched a $150 million true-sale mortgage-backed securitization. The deal was launched through a mortgage-backed securities conduit of ABN AMRO and was partially wrapped by the Multilateral Investment Guarantee Agency (MIGA).

Olga Sclovscaia, a senior underwriter at MIGA, said in a release that the deal introduced an important new capital markets instrument to the arsenal of funding sources available to Kazakhstans financial institutions, both banks and non-banks. This represents an important step in the development of the countrys financial sector, said Sclovscaia.

In February Kazkommertsbank launched a $61 million bond into the Singapore market, the first-ever Singapore-dollar-denominated issue from a Kazakh issuer. In March the first euro-denominated bonds were issued out of Kazakhstan, and in April Kazakhstan Temir Zholy (KTZ), the national railway, launched a $450 million senior unsecured eurobond through lead managers Citigroup and ABN AMRO. The deal, the largest-ever unsecured bond out of Kazakhstan, matures in 2011 and came in with a coupon of 6.5%. We really see that the market is becoming much more sophisticated in terms of funding alternatives that are available for companies here, Rigterink notes.

Denise Bedell