COUNTRY REPORT / THE PHILIPPINES


Despite strong growth in some areas, the Philippines struggles with high unemployment and a widening gulf between the rich and the poor.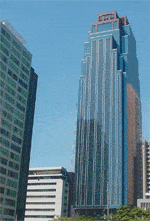 Office buildings in the

growing commercial

hub of Pasig City,

Manila

The Philippines economy continues to move forward, with President Gloria Macapagal-Arroyo stating on September 27 that the nation has made it onto the list of Second World or middle-class countries. She based the claim on new figures that show per capita income has hit $1,400, the generally accepted level at which nations are considered to have achieved middle-income status. The figure is also seen as a magic pointer to economic takeoff, representing the level at which people have disposable income, expanding economic activity.
Right now, were not Third World any more. At $1,400 we are now Second World, a middle-class country, and if we are able to continue the trajectory of [a] 1% decline in the poverty level, we can reach hopefully First World status by the year 2020, she said.
Some believe the nation may be on the verge of an economic upswing that will push growth beyond 6%, a rate seen as essential for cutting poverty. The economy has been growing between 4% and 6% a year since 2001, with some 8 million Filipinosa 10th of the populationwho work overseas providing a lot of the driving force. In the first half of 2006 the economy continued to build up steam, registering a 5.6% boost in GDP, up from 4.8% a year earlier. Better performances from agriculture, fishery, forestry and industrial sectors helped keep the economy moving forward. A livelier manufacturing sector made up for the slowdown in services. A new agreement with Japan that will allow Filipino nurses to work in Asias strongest economy will help push remittances even higher.
Many analysts are positive. Though the Philippines has not yet reached the phase of Brazil or Mexico, which has been actively buying back external debt, we believe the government is taking the right steps to gradually reduce foreign currency exposure of its government debt profile, which would be credit positive, Citigroup Global Markets said in a September 6 commentary.
There is agreement that, in some business areas, the country is looking far more attractive. The electronics industry remains the most important export industry, directly employing more than 400,000 workers and last year accounting for over 66% of manufacturing exports, with sales of about $27 billion. The telecommunications industry is considered likely to grow steadily, with consumer and corporate needs becoming more sophisticated. Although basic mobile phone services will continue to drive competition in the near term, wireless broadband Internet access and third-generation service will provide more profit centers for telecom firms.
Edith D. Dychiao, a spokesperson for major banking group Banco de Oro, says growth is slowing in the communications sector, which posted year-on-year growth of 14% for the first quarter of the year, down from 19% in full-year 2005. Growth in subscriber take-up has slowed to single-digit levels from more than 100% growth three years ago, she says.

But, Dychiao adds, the property market is tightening, with vacancies falling in both office and residential buildings in metropolitan Manila and new projects being built outside the capital. The increased demand for housing has pushed up mortgage loans by 17% year-on-year in the first quarter of 2006, she comments. Likewise, auto loans and credit card receivables have surged by 12% apiece for the first half of 2006.
The banking industry is also expected to continue playing a central role in sustaining business expansions. The non-performing loan average is down to single digits, helping set the stage for banks to farm out more loans in the future. Recent adoption of International Accounting Standards and next years shift to Basel II would also help the industry become stronger and better suited to take on inherent and prospective risks in the business and price the loans more efficiently, bankers say.
Although the road to 2007 is not guaranteed to be a smooth ride, with national elections coming up and the international scene becoming more complicated, we have reason to hope that the road we are on will lead us to relatively better times, says Bernardito M. Lapuz, a senior vice president at Metropolitan Bank & Trust Company.
The most attractive business sector at the moment is outsourcing. Just six years ago the countrys income from outsourcing was a lowly $24 million. With recent gains in outsourcing revenues, it is heading to become a $3 billion-a-year business. The Philippines now ranks third in the global outsourcing industry, behind India and China.
The latest to invest in the sector is LogicaCMG, which in September opened a new global service delivery center in Manila. In the first phase of development, the center will take on 200 to 300 people specializing in human resources business process outsourcing, finance and accounting outsourcing, service desk and application services. LogicaCMG chose the Philippines as their new global services delivery location because of its skilled labor market, the excellent English language skills and its affinity to Western business culture, a statement from the company noted.
Benedicto L. Cid, managing director of ACNielsen in the Philippines, goes so far as to call this an outsourcing phenomenon and credits the rise in employment in the sector with higher confidence on jobs in the companys latest poll of business conditions.

Foreign Investment Grows Strongly


According to the Philippine central bank, overall net foreign direct investment more than doubled in the first six months of this year, totaling $996 million, up from $464 million in the same period last year. The rising net FDI flows mirrored the positive sentiment of investors on the countrys economic climate following the news on sustained GDP growth, increasing GIR [gross international reserves], surplus fiscal position from April to June and easing inflation rate, the bank said in a statement.
The half-year figure promises a solid improvement on last years net FDI figure of $1.1 billion, itself up 64.5% from a year earlier but lagging well behind two strong regional competitors, Thailand with $3.3 billion and Vietnam with $ 1.9 billion. Foreign reserves were at their highest on record in August at $21.427 billion, the central bank also announced, although it admitted that the rise was largely because of a total of $750 million in new debt to cover other debt repayments.

During a recent briefing, central bank governor Amando M. Tetangco Jr. said the country was continuing to post surpluses in its balance of payments, driven by export receipts, foreign investments and high remittances from overseas Filipino workers.
Not everyone is happy. Finance secretary Margarito B. Teves has expressed concern that the country is spending too little on infrastructure, commenting that the revised budget restrained government spending on infrastructure and social services. Revenues will also be affected in the sense that if we are not able to spend now, we will not have the revenues because the infrastructure is associated with growth, he says.
Teves adds that the Philippines has one of the lowest capital outlays in Asia at around 1.5% of GDP, even lower than that of Vietnam but approximating that of Indonesia, and even there the level of expenditure on capital items was rising, threatening to put the Philippines in last position.
World Bank country director Joachim von Amsberg adds that while structural reforms are continuing, there is an overall lack of coordination. The weak spot that holds back the Philippinesand much of the fiscal problem is a symptom of thatis weakness of some public institutions to work for the common good, von Amsberg said in a recent interview.
The World Bank also wants Manila to spend more on human resource development. Loraine Hawkins, the banks human development coordinator, says that improving the quality of education and health services is as necessary as building infrastructure support in efforts to achieve economic growth objectives in the long run. And Emmanuel Jimenez, lead author of the World Banks World Development Report, says that while the Philippines had made substantial progress in the past 30 years in terms of the number of youths attending school, the quality of education they receive is still a big question. Jimenez says the countrys advantage of having an educated labor force was becoming more and more challenged by efforts of other Asian countries to develop their human capital.
The Department of Budget and Management and the Department of Finance earlier said the government acknowledged the need to improve the delivery of education and social services. The government intends to increase spending for these sectors as revenues increase in the coming years.
Unemployment continues to be a problem. The government has yet to hit its own goal of creating 1 million to 1.5 million jobs a year, a goal that Ifzal Ali, chief economist of the Asian Development Bank, says is far too low to deal with entrenched poverty. The bank says the situation reflects a failure to invest in infrastructure and social expenditure over the past one and a half decades.
President Arroyo is hoping consumer spending will power the Philippines to new economic highs, but two recent surveys of confidence levels offered conflicting views. An ACNielsen poll found that respondents were less concerned about the economy, but a central bank survey found that business players were less optimistic, with concerns over external factors such as high energy costs. Consumers are changing their spending habits, says Rex Drilon II, president of property developer and manager Ortigas and Co., which runs the Ortigas business district and the Greenhills shopping center. He points to increasing spending on technology-related products and services.
In its September Regional Economic Outlook the International Monetary Fund added its voice to those of other critics, saying the Philippines is in a condition where the rich get richer while the poor remain as they are. Felipe Medalla, former socioeconomic and planning secretary, disagrees. The same is not true for us; the poor still get poorer, he says.
Guillermo Luz, executive director of the Makati Business Club, whose members include heads of leading corporations, says most businesses see consumers as still very pessimistic: While they are hopeful about the future, it seems that many are still holding back on spending.
Pessimism in the business sector displayed in a recent survey by the central bank is being felt more acutely in small companies with limited markets, as compared with large firms that are better able to withstand difficult times, says Luz.

Philippine Chamber of Commerce and Industry president Donald Dee also worries that the extra income some consumers are enjoying is being spent almost exclusively on imports. If you look at the flea markets, all the garments they sell there are from China or Bangkok, Dee says. Thats why local businessmen are pessimistic. The optimistic consumers are using their purchasing power on all the wrong things.
Antonio Tujan, research director of the independent Ibon Foundation, points out that a higher per capita income does not translate to better living conditions for the majority of Filipinos. Broad income disparities continue to widen in the country, something even government planners admit, he says. Based on the 2003 Family Income and Expenditure Survey (FIES), the poorest 10% of the countrys families account for only 1.8% of total income, while the richest 10% own 36.8%. Tujan says legislated wages cannot keep up with the rising cost of living. The legislated daily minimum wage in Manila is only 41% of the estimated daily cost of living for a family of six.

Keith Loveard