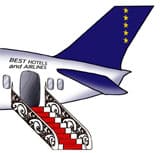 With the global economy largely on an upswing, business travel is entering its second year of growth. Flight numbers are up, as are the premium rates that typically mark the health of the market. Travel management company BTI UK says business fares are up by between 3% and 4% over summer 2004.
That trend is reflected in the health of the hotel market, too. According to Deloitte's HotelBenchmark Survey, a regular industry study, revenue per available room (revPAR) for the Middle East hotel sector increased by 24.5% in the first six months of 2005. Where there's a shortage of rooms for the business traveler, the uptick is stronger still. RevPAR in Moscow rocketed by 33.9% in year-to-May 2005, with the average room rate hitting $229. Those kinds of figures have put smiles on the faces of many industry participants in recent months. Increasingly, they are translating that optimism into industry plays. In July Swissotel opened the doors on a 235-room hotel in the heart of Moscow. A 332-room Ritz-Carlton will follow in summer 2006.
But if the investment spigots are opening, a note of caution lingers in the background. A fragile security situation in key parts of the globe could easily turn into a cutback on international travel if, for example, the recent bombings in London turn out to be part of a sustained offensive. And although Avian flu has killed just 55 humans since it first appeared in South East Asia in late 2003, Leslie Garrett, senior fellow for global health at the Council for Foreign Relations, points out that, with 50% human mortality rates, the virus potentially is much more dangerous than the Spanish flu, which killed 50 million people in 1918 and 1919.
There's little that travel planners can do in the face of risks on that scale. Instead, they are concentrating on making the most of the resources they have at their disposal. That's producing a strange split in the business travel market, say analysts. At one end of the scale, business travelers are abandoning the traditional premium full-fare ticket for short-haul flights in Europe or the US, opting instead for one of the growing number of budget airlines. That's reflected in the varying fortunes of airlines: Ryanair, Europe's leading low-cost airline, saw pre-tax profits for the second quarter of calendar year 2005 soar by 32%. The company's market capitalization now touches that of British Airways, once the self-dubbed "world's favorite airline."
Low-cost airlines typically were quicker in latching on to the Internet, gaining important first-mover advantage in the hunt for the budget-conscious self-booker businessman. In the US, over 50% of business flights already are booked online, and European is catching up fast. Many older airlines have now refashioned their online offerings, but they are fighting on other fronts, too. Asian and European airlines have toned up their business-class services, making flat-bed seats standard on many intercontinental routes. Cash-strapped US airlines have struggled to match that level of comfort. That has made them vulnerable to another threat: the increasing democratization of private jets. Companies now have a range of options in private services, which offer comfort, convenience and flexibility. Jet timeshares allow companies to defray the costs of ownership, for example. Industry analysts see a clear geographic procession: A trend toward private hire, which began in the US, has since spread to Europe. In the future, Chinese entrepreneurs and companies are expected to provide the fastest growth in demand.
See our award winners