Corporate clients clamor for online services that go beyond account information and transactions and actually change business processes to make them more efficient.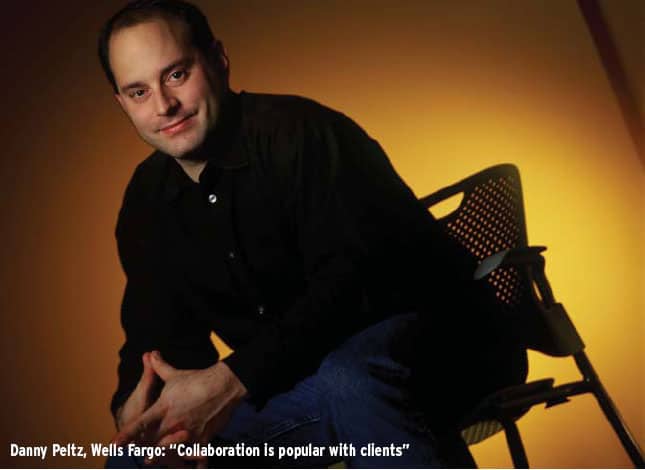 Okay, so youve built it, but have they come? That question sums up where banks stand when it comes to offering Internet banking. Banks are in that phase where theyre refining as opposed to building. The technology continues to get better and organized every day more around client workflows and needs, says Steve Busby, principal and director of business development at Greenwich Associates, a Greenwich, Connecticut-based consulting and research firm.
Corporate customers are increasingly interested in online offerings that present them with a fundamentally better way of doing something. They want services that alter and better previously inefficient business processes foreign exchange, payments and trade settlement, for examplesaving time and money.Were seeing a lot of small but value-added features being added to the platforms. The sites are more intuitive, customized and have more robust functions,Busby says.
San Francisco-based Wells Fargo, for example,last fall added a feature called Web Collaboration to its corporate banking service. It allows a bank customer- service manager to see the same Web page the customer sees as they speak on the telephone. The manager can then walk the client through a service or a problem the customer is having, says Danny Peltz, senior vice president and head of wholesale Internet solutions at the bank. He says the collaboration feature has been popular with clients. Providing these services allows banks to leverage the Internet to strengthen their relationships with important corporate customers and keep them from fleeing for a competitors offerings, Busby and other e-banking experts say.

Critical Mass

Internet banking has made the most headway and is reaching critical mass among corporate and institutional customers in cash management,fixedincome trading, foreign exchange trading and trade services such as payments and letters of credit. For example, leading banks report usage rates topping 70% for cash management offerings. In the bond arena, TradeWeb, an online trading platform owned and run by the worlds biggest fixed-income dealers, surpassed the $70 billion mark for average daily trading volume last October.
But theres still a long way to go. Among large global corporate users of foreign exchange trading services, 62% use the Internet for research and information, but less than one-quarter use it for some of their trading, according to a study by Greenwich Associates. Meanwhile, 10% utilize the Web for some element of straightthrough processing (STP).
STP is the seamless electronic processing of tradesbe they foreign exchange, fixed-income or equity from order entry to routing and execution. Busby and other analysts expect increased demand for STP trading solutions over the next couple of years as they help reduce costs and enhance return on investment by executing and clearing transactions more quickly.
Still, a major gap exists between use of the Internet as an informational tool and use of the medium to fundamentally change the way business is done.I think that gap will shrink over time,but therell always be a gap there. People will still be needed to provide advice for the more sophisticated transactions, says Busby.

Spending

Banks arent spending on Internet initiatives the way they used to in the late 1990s, which isnt surprising amid soft economies, markets and business spending.But the slowdown hasnt been dramatic. We havent seen a large-scale pullback from ecommerce. Its trended down,but the banks recognize this is an important way of doing business, says Busby.
In Europe banks invested heavily in online retail banking services over the past five years, while not spending nearly as much on corporate banking endeavors. IT spending on retail banking in Europe surpassed 600 million, while banks spent slightly more than 200 million on corporate Internet banking, according to a January report by Celent Communications, a Boston-based research and consulting firm focused on technology in financial services. But Celent predicts that European banks will ratchet up investments in e-corporate banking services by 200% to 450 million by 2005.
Corporate clients are increasingly asking for and getting their banks to offer more sophisticated cash management solutions.Celent says that by 2005 all major banks in Europe will provide customized features for corporate clients on the Internet to supplement the existing account access and payment initiation features almost all of them now offer.Were starting to see some of that smart technology take place where people can manage a process betterit can automate things, make them more efficient,Greenwichs Busby says. For example, strong cash management offerings allow a treasurer to check a balance to see if a payment is missing,initiate the payment and get a confirmation in one or two clicks on one screen. And with customization corporate users can tailor their cashmanagement- reporting template to be on alert for certain balance thresholds and execute transactions automatically. To offer this kind of customization and business-process-changing value, banks need integrated platforms, linking Web applications with one another and with other bank channels, legacy systems and internal databases.

Leaders

The banks that are leading the way in corporate and institutional banking online, according to Internet banking analysts and experts,include Citigroup, Bank of America and Wells Fargo in North America;RZB and ABN-AMRO in Europe; OCBC Bank and HSBC in Asia; and Citigroup (including Banamex) and Banco do Brasil in Latin America.
What many of the best Web offerings have in common is that they are well-organized, integrated and consistent; save time and money for clients (and for the banks themselves); and foster customer loyalty. Take Singapores OCBC Bank, for example. It has taken a click and mortarapproach to online corporate banking, seeking synergy between its Internet services, branches, call centers and sales force. It offers big corporate clients a dedicated team of bank staff to work with on sophisticated cash management applications.
Austrias RZB is lauded by analysts for integrating online banking offerings across product lines, sites and geographies. Such integration has been the key to the banks success in getting corporates to try online banking and to continue using it. Citigroup has taken the approach of providing consistent and uncluttered Web sites and services across markets and products. Its flagship CitiDirect corporate banking service assembles an array of corporate products and services through a simple series of buttons and links. Sites are also designed to match branch offices. CitiDirect has had explosive growth in customers and usage.
More than two years ago Wells Fargo introduced its Commercial Electronic OfficeWeb portal, featuring a single sign-on to access cash management, foreign exchange, credit and investment and trust services in one place.It has signed up 50% of its corporate customers to use it, exceeding the oneonethird of retail customers that have signed up for its online consumer banking service, which has been available almost three times as long.
The single idea behind [the Commercial Electronic Office] was to make our customers life easier. We brought it all together in one place and provide a consistent user experience, says Peltz.Clients have responded.

Adam Rombel writes on technology for Global Finance.


Email: arombel@gfmag.com


By Adam Rombel