The market for outsourcing treasury services is snowballing as products become more refined and corporations grow more confident in the process.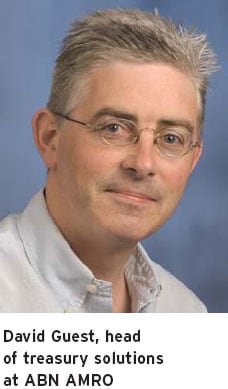 Outsourcing has become a hot topic in the American media only in the past few months, but in 1989, long before corporate best practice and shareholder value had entered the CFOs lexicon, GE outsourced software development to India, earning it the moniker Godfather of India, Inc.
The outsourcing market has since evolved to encompass both near-shore, offshore and ASP models; a range of providers including banks, IT vendors (SunGard, JMH) and consultants (Accenture, IBM); and a number of business processes from IT support, maintenance and development to inter-company lending, cash pooling, FX, liquidity management and accounts payable and receivable. The associated benefits are manifold, with projected cost savings ranging from 20% to 50%.Additional benefits include the ability to leverage best-ofbreed technologies and free up key personnel to focus on more strategic aspects of the business.
In many instances the case for outsourcing appears compelling, but most companies are only now starting to recognize the benefits. US multinationals initially led the charge, outsourcing all or part of their regional treasury operations.Previously the market was built up by US companies coming into Europe and using Dublin as a hub, says David Guest, head of treasury solutions at ABN AMRO. In 2000,Texas-based industrial flow management company Flowserve outsourced treasury netting, intercompany loans, pooling and FX for its European treasury operations to ABN AMRO, constituting an estimated $535,000 in cost savings.That same year California-based laser equipment specialist Coherent Inc. outsourced the management of its international treasury center (ITC) to FTI in Dublin, an independent treasury solutions provider and consultancy. FTI handles cash and liquidity management, FX and intra-group netting for Coherents international subsidiaries.
As I am a treasury department of one, that means regardless of whether I am on vacation, when it comes time to do some hedging or cash forecasting, it has to be done in a timely and efficient manner, says Dennis Bucek, Coherents senior vice president and treasurer. As a mid-tier company with $500 million in revenues, building and managing its own European treasury center was not an option. Outsourcing allowed Coherent to establish a regional treasury operation without the upfront investment that normally entails. It also eliminated excess cash at the local level, says Bucek, by streamlining and consolidating cash receipts and disbursement from its international subsidiaries.
Jonathan Koslover of Accentures finance and performance management service line, which provides outsourcing services to multinationals, believes companies fall into two camps: Those that want to outsource and those that say No way, not yet. Some treasurers are anxious about losing control, he says. Michael Mueller, head of market management Europe, Deutsche Bank Global Cash Management, agrees: An important aspect of the treasurers role is the control of processes that directly affect the financial health of the organization, he explains. Fear of losing this control to a third party is a valid first response to outsourcing.With its outsourcing provider a 13-hour plane journey away, loss of control was something Bucek had to come to terms with. I needed to feel comfortable that I wasnt going to wake up one morning and the ranch would be gone, he says.

Comfort Promotes Growth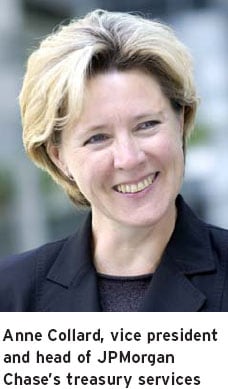 The growth of the market shows that companies are feeling increasingly comfortable. A study conducted by research group Gartner and the University of Pennsylvanias Wharton School predicts that the treasury and finance outsourcing market will increase from $11.4 billion in 2002 to $20 billion by 2007. Part of the driving force behind that growth, according to Lee Kidder, research director for wholesale banking at financial consultant TowerGroup, is that the psychological baggage normally associated with outsourcing, in terms of security concerns and the desire to preserve unique business functions, is disappearing. Anne Collard, vice president and head of JPMorgan Chases treasury services consulting group EMEA, adds,Outsourcing is something that should be on companies radar screens as much as corporate account management and securitization. Up to 20% of the 1,000 largest global companies are expected to outsource finance operations in the next five years.

Gently Does It

Outsourcing does not entail an all-or-nothing approach. Typically, companies outsource accounts payable and receivable or settlement activities as a minimum, moving up the value chain as the comfort level increases.Perhaps the perceived threat or challenge comes from the expectation that all of the treasury function, including the treasurers role, will be outsourced, says Aengus Murphy, chairman of FTI, a Dublin-based independent treasury management services firm. Although third-party providers support a wide range of treasury functions, outsourcing the whole business is not recommended best practice.
The banks maintain they do not want to manage all aspects of treasury on behalf of their corporate customers. We are not looking for the treasurers job, says ABN AMROs Guest.We are providing a service that enables them to manage their business more efficiently. Outsourcing core-processing capabilities to a single provider does not necessarily mean the same company manages all aspects of the business, says JPMorgans Collard. There are companies we run the back office for, but they are still doing FX trades with other banks.We are running the core engine, but we are not necessarily looking to manage their payments business.
As the treasury management function becomes more complex in terms of IT systems and heightened regulatory compliance, strategic benefits beyond cost savings are taking precedence.Accentures Koslover highlights tax compliance as a potential growth area for treasury outsourcing. One of the reasons why you would outsource tax compliance is to gain access to dedicated expertise and up-to-date regulatory information from around the world, he explains. As corporate treasurers revisit their core competencies in todays complex operational environment, the case for outsourcing is more compelling than ever before, its proponents maintain.The role of the treasurer has changed, observes Brian Hayes, global head of CitiGroups Treasury Solutions in Dublin.There are a lot more demands in terms of overall risk management. How do you control operational risk? How do you segregate duties using technology and functionality that didnt exist before?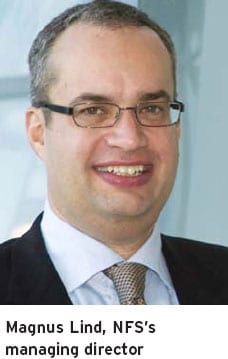 To ease the investment and maintenance of complex treasury management systems (TMS) and to help optimize the treasury systems environment based on shared best practice, Nordic Financial Systems (NFS) provides an outsourced Treasury Support Center solution that allows treasurers to focus on more strategic aspects of the business. Many treasuries are focused on increasing the level of strategic treasury management they perform, while decreasing the non-strategic transactional aspects, which can be outsourced, notes Magnus Lind, NFSs managing director. Similarly, the banks maintain that their outsourced solutions enable companies to benefit from enhanced reporting and the ability to monitor risk at a higher level than under existing systems.
By outsourcing the implementation, development and maintenance of TMS to an external provider, ABN AMROs Guest says that companies can expect to see substantial cost savings within the first three to six months. However, depending on what is being outsourced and the rationale for doing it, cost savings are not always a given. Since outsourcing its ITC to FTI, Coherent has not reduced costs. Outsourcing involves added cost, says Bucek. It is worth it, though, as it gives us better control over our cashlike buying an insurance policy.

Anita Hawser