LATIN AMERICA

Spains largest bank has invested some $17 billion in recent years to build a virtual Latin American banking empire that spans the region, leading some to contend BSCH is spearheading Spains re-conquest of the Americas. Of the banking groups record 2.6 billion in net attributable income last year (up 16.2% from 2002), 1.49 billion came from its Latin American operations, which were also up 14.3% year on year. Recent financial crises throughout much of the regionprompted by economic recessions and currency devaluationshave forced BSCH to launch new strategies to deal with difficult market conditions and stay ahead of competitors. It sold a 50% stake in Mexicos Grupo Financiero Santander Serfin to Bank of America for $1.6 billion in 2002 (compared with the $1.55 billion it paid for 100% of the Mexican bank just two years before) and began downsizing its Banespa unit in Brazil as part of a broader plan to sell less-productive assets. Yet while others have fled, BSCH has maintained its firm commitment to the region and now plans to focus its Latin American efforts on three key markets: Brazil, Mexico and Chile. BSCH executives say the emphasis will be on expanding its profitable retail banking business, where it brings to the region nearly 150 years of experience and knowledge.
Emilio Botin, president
www.bsch.es

ARGENTINA


Banco Macro-Bansud

Banco Macro-Bansud may have found the formula to working within a difficult business environment. While Argentine banks have been reeling from a financial crisis that triggered more than $18 billion in banking sector losses in 2002, Banco Macro-Bansud is one of the few remaining profitable institutions. As competitors struggled for survival, its deposits were up 24.3% and personal loans up 24% in the first half of 2003.The rest of the year was already looking promising, too.
Macro-Bansuds formula for success may lie in its commitment to implementing long-term strategy, an ability to retain strong shareholder support and its adherence to high standards of corporate governance. Another component of its winning strategy has been to focus its activities on provincial cities with large underbanked populations and less competition than in Buenos Aires.
It doesnt hurt that it is the financial agent for three provincial governments, for which it receives a healthy share of public sector deposits.
Jorge Horacio Brito, president
www.bansud.com.ar

BARBADOS


FirstCaribbean International

It often pays to have good parents, and FirstCaribbean, launched in 2002, is a prime example.The bank combines the Caribbean operations of Barclays Bank and CIBC, each of which holds a 43.75% share.
As a pan-Caribbean bank, First- Caribbean operates in 15 Caribbean countries and territories and, with a market capitalization of some $2 billion, is the largest publicly traded financial institution in the region. Its shares are actively traded on the Barbados, Trinidad and Tobago, and Jamaica stock exchanges.
Barclays and CIBC first began talks in 2001 to combine their retail, corporate and offshore banking operations throughout the Caribbean islands, resulting in the establishment of FirstCaribbean as a full-service bank. Its pan-regional presence has been particularly helpful for investors, who can now conduct transactions on several islands through a one-stop shop.With its head office in Barbados, the bank continues to gain market share, capitalizing on its parent companies expertise and market recognition.
Charles Pink, CEO
www.firstcaribbeanbank.com

BOLIVIA


Banco Bisa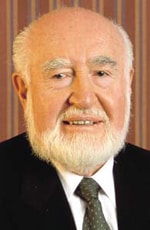 Julio Leon Prado,

president, Banco Bisa

Banco Bisa continues to be a banking sector innovator, having been the first bank to introduce ATMs and telephone banking in Bolivia. More recently, Banco Bisa introduced new cash management services for local companies as part of the banks plan to provide Bolivian companies with a broader range of modern corporate solutions. Its efforts have gained it widespread recognition as the countrys most trusted brand in the corporate banking sector.
Founded in 1963 as a second-tier bank, Banco Bisa went into the commercial banking arena in 1988. Today it offers a wide range of services that include deposit accounts, insurance products, leasing, credit cards and secur ities brokerage,among others. The bank offers a menu of short- and long-term financing options, including project and trade finance services. For more than a decade it has helped form a new generation of innovators by providing college scholarships to the nations most outstanding students.
Julio Leon Prado, president
www.grupobisa.com

BRAZIL


Banco Ita

Banco Ita has remained a stellar performer among Brazilian and Latin American financial institutions. In fact, Banco Ita has posted nearly $1 billion in annual pre-tax profits for five years in a row, making it one of Latin Americas most profitable banks.While many of its local competitors were grappling with the countrys sharp currency devaluation, Ita not only stayed afloat but went on to report net income of $1.09 billion in 2003.
Even in the depths of the countrys economic crisis in 2002, it acquired Banco BBA, Brazils largest corporate bank, for $930 million in a bold move that many at the time felt may have been too risky. But the risk paid off nicely, as the acquisition increased Itas market share in the wholesale banking sector, adding to its already strong retail banking share. It also acquired Banco Fiat for $310.5 million that same year. The purchases were the latest in more than $4 billion in acquisitions since 1995.
Roberto Elyria Setubal, president and CEO
www.itau.com.br

CHILE


Banco de Chile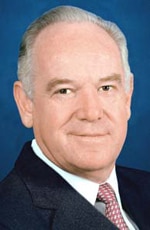 Segismundo Schulin- Zeuthen

Serrano,chairman,

Banco de Chile

Chiles second-largest bank, Banco de Chile is a star performer among the countrys financial institutions. The bank posted net income of $220 million last year, for a hefty 146% increase over 2002. Profits from the banks subsidiaries, particularly its stock brokerage and factoring units, drove the performance, but a 6.6% rise in assets and a 10.4% drop in total operating expenses also contributed to the windfall. ROE was 19.45% at end-2003, compared with 8.9% in 2002. Its efficiency ratio also improved to 52.9%, compared to 2002s 59.7%.
Controlled by the local Luksic family, Banco de Chile overtook Banco Santander Chile as the nations largest commercial lender in 2003, when it scored a 19.5% share of the countrys loan market; the Spanish banking giants share was 18.8%. Banco de Chiles commercial loan book totaled some $4.3 billion last year, and the bank is expecting commercial loans to drive growth in 2004. Local analysts are betting its winning streak is not yet over.
Segismundo Schulin-Zeuthen Serrano, chairman
www.bancochile.cl

COLOMBIA


Bancolombia

Created in 1998 through the merger of BIC and Banco de Colombia, Bancolombia is benefiting from improved credit quality and a Colombian economic rebound to remain the nations largest bank in terms of both assets and deposits. Bancolombia is not only big; its also profitable. Net profit was up 123% last year, to $174 million, compared with 2002, with profits coming from a diversified mix of investments, fees and interest income.
Annualized ROE was 31.1% in 2003, up from 20.4% in 2002, and ROA rose to 3.4%, from 1.88% in 2002. The bank improved its efficiency ratio to 54.3% in 2003 from 65.7% in 2002, as efficiency-boosting initiatives began paying off. Non-performing loans were a low 1.99% in January 2004. Bancolombia, the only Colombian bank listed on the NYSE, continued to set its sights beyond its borders when it opened an agency in Miami last year, adding to its subsidiaries in Panama and the Cayman Islands.
Jorge Londoo Saldarriaga, president
www.bancolombia.com.co

COSTA RICA


Banco Interfin

Interfin is the most profitable private bank in Costa Rica, where state-owned banks dominate the market. The banks assets rose from $485.3 million in 2002 to $592.3 million in 2003, when it posted profits of $5.1 million. Profits have been climbing steadily. Interfin is a member of Enlace Bancario, an alliance of top Central American banks that pool their resources.
Founded in 1979 as a finance company servicing industrial and commercial clients, Interfin became a multiple service bank in 1982. Since then it has focused mainly on gaining market share among large and medium-size local companies, for which designing corporate solutions remains a key priority. Its product offerings include personal and investment banking, leasing, loans, cash management and tax collection services, among others. Interfin operates 18 branch offices throughout Costa Rica. In addition, it offers customers the convenience of Internet and telephone banking and a nationwide network of ATMs.
Luis Liberman, general manager
www.interfin.fi.cr

ECUADOR


Banco del Pichincha

Banco del Pichincha was the top earnings producer among Ecuadorian banks last year, posting $18.9 million in net income in a country where the entire banking system, consisting of 22 commercial banks that are currently in a consolidation mode, reported net profits of $92 million. Pichincha not only took the lions share of sector profits, but its performance far outpaced that of its closest competitor, Produbanco, which was the second-largest earner at only $12.8 million in profits.
Although big does not always mean profitable, Pichincha also happens to be Ecuadors largest bank, in terms of both assets and loans, with 26.3% and 26% of sector totals respectively. The bank, founded in 1906, is one of the nations oldest financial institutions and is part of a much larger financial group that includes a portfolio of 20 other well-known companies, including banking subsidiaries in Peru and Colombia, an offshore bank in Nassau and an agency in Miami.
Fidel Egas Grijalva, president
www.pichincha.com

EL SALVADOR


Banco Cuscatlan

Fast becoming Central Americas leading commercial bank, Banco Cuscatlan not only operates in its home base of El Salvador, but also maintains subsidiaries in neighboring Guatemala, Costa Rica and Panama.While it awaits approval to extend its reach into Honduras and Nicaragua, the bank has already established strategic alliances with leading financial institutions in both markets to lay the groundwork for its full-fledged arrival.
Banco Cuscatlan has based its business model on a regional approach that includes the establishment of a regional management group. The move allows it to take advantage of economies of scale, while providing enough flexibility to meet individual market demands. It also operates a securities trading unit in Miami and a network of money remittance centers in the US to service Salvadoran immigrants. In 2003 the bank compensated for lower net interest income through increased trading gains, fees and commissions. Total assets were $3.55 billion in 2003, up from $3.08 billion in 2002.
Mauricio Samayoa, president
www.bancocuscatlan.com

GUATEMALA


Banco Agromercantil

Despite its ranking as the countrys fifth-largest bank, with a 6.6% share of assets and 7.48% of the loan market last year, Banco Agromercantils profits soared by 200% compared with 2002, to $10.41 million. As was the case for most Guatemalan banks, most of the increase for Agromercantil last year came from higher fees and commissions, as deposits and loans declined throughout the nations banking sector.
Founded in 2000 through the merger of Banco Agro and Banco Mercantil, the bank was initially created to service Guatemalas agricultural sector. Agromercantil now operates as a universal bank offering a full line of banking products. It operates 37 branches in Guatemala City as well as 40 others in cities throughout the interior. It also has two agencies in California and one in Chicago. The bank entered into an alliance with El Salvadors Banco de Comercio to offer money remittance services from the US to Guatemala.
Jose Luis Valdes OConnell, president
www.bam.com.gt

HONDURAS


Banco Atlantida

Banco Atlantida is Hondurass largest bank in ter ms of assets, which rose to $720.5 million in 2003 (16.3% of the total for the 16 banks in the Honduran banking sector) from $704.1 million in 2002. It also held a 16.6% share of the countrys loan market last year, when the bank posted net profit of $7.9 million. Atlantida is a fairly big fish in a relatively small pond: The top five banks in Honduras control nearly 67% of the nations commercial banking assets.
Founded in 1913, Banco Atlantida is part of a larger Honduran conglomerate. Much of the banks success has been driven by its ability to attract new depositors by offering low fees and low minimum deposits to open accounts.The initial deposit on savings accounts, for example, is only 500 lempiras, equal to some $28. Higher-income depositors seeking to open an account in hard currency may do so with either $500 or 500.
Guillermo Bueso, president
www.bancatlan.hn

MEXICO


Banamex

Banamex is poised to become a model for how to manage a Latin American bank. Citigroup, which acquired Banamex for $12.5 billion in the largest-ever US-Mexico corporate merger, will now use the Mexican bank as a business model for its other Latin American operations. In fact, Banamex was Citigroups top profit driver in the region, accounting for 8% of Citigroup profits as a whole.
Banamex reported $1.45 billion in net income in 2003, up from $1.21 billion in 2002, with nearly 50% coming from consumer lending. Banamex accounted for 29% of the Mexican banking sectors $10.05 billion consumer credit portfolio last year, for which it remains the countrys largest private lender. It is also a leading player in the booming USMexico money remittance market. The bank, which has a 120-year history, operates a network of some 1,500 branches, which is why it seems there is always a Banamex office down the street anywhere one goes in Mexico.
Manuel Medina-Mora, chairman and CEO
www.banamex.com

PANAMA


Banco General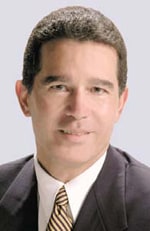 Raul Aleman,

general manager,

Banco General

Panamas second-largest private bank, Banco General is looking inward to expand its domestic operations in a bid to take market share away from its closest competitor, Banco del Istmo. The strategy is bearing fruit, as Banco General has already become the countrys leading consumer and corporate lender. Total loans rose to $1.43 billion in 2003, compared with $1.38 billion in 2002. It continues to post better results than its competitors and can boast of having the countrys lowest non-performing loan ratio, at just over 2%.
Established in 1955, Banco General grew through the acquisition in 1999 of Bancomer, a Panamanian bank focused on the countrys growing mortgage sector, in a strategic move that allowed it to expand into other lending activities. Its conservative yet profitable lending practices led to sustained profitability in 2003, with retained earnings continuing to boost capital.Total assets rose to $2.5 billion last year, compared with $2.4 billion the year before.
Raul Aleman, general manager
www.banco-general.com

PERU


BBVA Banco Continental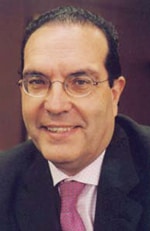 Pedro Brescia

Cafferata, president, BBVA Banco Continental

In 2003 BBVA Banco Continental pursued an aggressive plan to increase its efficiency ratio, reaching 41% in mid-2003, compared with 60% for the Peruvian banking system. Although BBVA Banco Continental owned by Spains BBVA and the local Brescia Groupis still ranked as Perus second-largest bank, behind Banco de Credito, it is nevertheless the countrys most profitable financial institution.
The bank posted a 58% rise in net profit, to $50 million last year, mainly on account of efficient costcutting measures that had been launched earlier and continued in 2003. Another factor in its success was its ability to slash non-performing loans to 3.7% in mid-2003 in a strategy that will prove particularly beneficial for long-term profitability now that the banks fastest-growing business segments include mortgage and retail lending. In a strategy to maintain its retail customer base, the bank has launched customer loyalty plans that range from frequent contests to reward points.
Pedro Brescia Cafferata, president
www.bbvabancocontinental.com

PUERTO RICO


Banco Popular de Puerto Rico

Banco Popular continues to be Puerto Ricos largest bank, with more than $36.4 billion in total assets in 2003, up from $33.7 billion in 2002, and nearly 200 branches. Net income has risen steadily to $470.9 million last year, from $351.9 million in 2002 and $304.5 million in 2001. Popular Inc., the banks holding company, with more than $35.8 billion in assets, also operates local securities, insurance and mortgage subsidiaries that allow the bank to offer its clients a broader portfolio of financial products.
Populars reach extends far beyond the island. Its GM Group unit is Latin Americas largest information systems integrated solutions and processing services provider. The bank operates eight branches in the US and British Virgin Islands, as well as a broad network of ATM and POS terminals in the Dominican Republic and Costa Rica. Its mainland US operations include Banco Popular N.A., the largest Hispanic bank in the US, with 32 branches in five states.
Richard Carrion, chairman, president and CEO
www.bancopopular.com

TRINIDAD AND TOBAGO


Republic Bank

When Republic Bank was founded as Colonial Bank in 1837, its founders had little clue that the bank would one day go on to become a financial powerhouse throughout the Caribbean. Republic continues to grow through acquisitions that most recently led to last years purchase of the Dominican Republics Banco Mercantil, in a deal that boosted the Trinidadian banks assets by 34%, to $25.8 billion.
The acquisition spree is far from over. Last year it also acquired the Barbados National Bank. It had already taken majority stakes in Trinidads Bank of Commerce and Guyanas Bank of Industry and Commerce in 1997.
So far, the strategy has paid off, and last years profits allowed the bank to install a new core computer system that should help further integrate its regional operations. Republic is not disregarding its loyal clients at home. It still operates the countrys largest branch and ATM network.
Ronald Harford, chairman
www.republictt.com

URUGUAY


ABN AMRO Uruguay

ABN AMRO Uruguay appears unsinkable. When Uruguays banking sector was nearly crippled in 2002 by a financial crisis in neighboring Argentina, which wiped out almost 40% of Uruguayan bank deposits, the banks assets fell 32.2% but its profits were up 55%. In fact, ABN AMRO was the countrys only profitable bank amid the crisis, with ROE rising to 37.4% in 2002 from 28% in 2001.
The largest foreign bank in Uruguay, ABN AMROs performance remained strong last year, when it also boosted its share of the local credit card market to 31%. Having access to ABN AMROs international know-how means the bank can adapt quickly to changes in market conditions. Its portfolio of offerings includes payroll services and foreign trade operations, with both segments poised for growth amid the countrys economic recovery. The bank operates a network of 23 branches throughout Uruguay and offers both basic and business online banking alternatives.
Eric Simon, country representative
www.abnamro.com.uy

VENEZUELA


Banco Mercantil

Despite a turbulent business environment, Banco Mercantil continues to do the right things to retain its leadership position as Venezuelas largest private bank, with a 16.3% share of sector deposits, 15.2% of total assets and 14.6% of loans last yearnot a small feat in a country plagued by political upheaval. Although its ratio of non-performing loans is high, at 5.6%, it is lower than the 7% ratio for the countrys banking sector as a whole.
Much of Banco Mercantils continued success is driven by smart management decisions, including a strategy to invest excess liquidity in safe but high-yielding government securities.
Mercantil Servicios Financieros, the banks locally owned holding company, also controls Commercebank, a US bank with offices in Florida,Texas and New York. In addition to operating an extensive network of branches and ATMs throughout Venezuela, the bank maintains representative offices throughout Latin America, as well as in London and Zurich.
Gustavo A. Marturet, president
www.bancomercantil.com