EUROPE

Austrias Raiffeisen Zentralbank Group (RZB) has been far more systematic in expanding its operations throughout Central and Eastern Europe (CEE) than most of its rivals. Rather than cherry picking the biggest banks in the larger markets, RZB built up an enviable and closely integrated network of banking subsidiaries in Central Europe, the Balkans and the former Soviet Union. Over the past year it succeeded in adding key banks in Albania, Belarus and Kosovo to this network.
RZB has consistently outperformed the market both in terms of asset growth and profitability. Last year saw pretax profits leap by 42%, built around balance sheet growth of 21%, with marked improvements across all the key profitability ratios.ROE was 15.5% before tax.
Even in Austrias competitive banking environment, RZB gained market share, with loans up by 27% and deposits by more than a third. But it is its commitment to expanding its CEE presence that is really bringing in the benefits, winning new clients from both major corporates and the SME sector that can tap into RZBs broad range of services, including leasing, asset management, brokerage and insurance.
The relatively recent focus on retail banking promises the fastest growth in the immediate future, with this years target being to expand the customer base from 3.2 million to 4.2 million through a mix of organic growth and acquisitions. RZB is also making its presence felt in Central Asia, where it is active in syndication and trade finance.
Walter Rothensteiner, chairman
www.rzb.at

ALBANIA


Savings Bank of Albania

Overall winner Raiffeisen won the bidding race in the privatization of Albanias market leader, the $126 million deal being concluded in April 2003. Even before then, Savings Bank of Albania had posted a 20% profits boost and slimmed down its workforce and branch network by more than 60%.
Expect a name change to Raiffeisen Bank Albania and a move away from strictly deposit-taking to a broader array of retail services, including the launch of a new ATM network and distinct units specializing in corporate and commercial lending. With its market share of 60% of all liabilities, the reborn Raiffeisen Albania is likely to set new standards of banking services in Albania.
Steven Grunerud, CEO
www.bkursimeve.com.al

ARMENIA


HSBC Bank Armenia

Armenias banking sector has largely consolidated, but it is still relatively trouble-plagued. Even after so many problem banks have closed, HSBCs ability to provide banking services and products conforming to the best international standards has helped it carve out a third of the local banking market. It is a leader in credit cards, being the only MasterCard agent, and is installing more cash machines than any of its rivals.
The bank is a joint venture, 70% owned by the international banking group with the balance held by local investors. HSBC Bank Armenias profitability has doubled in recent years, and it has maintained a firm control over costs, resulting in a return on equity exceeding 20%. Its effective treasury functions have also given it leadership in foreign exchange and dealing in government securities. Its leadership position is not assured, however, as some of the competition is catching up.
Nick Gilmour, CEO
www.hsbc.com

AZERBAIJAN


International Bank of Azerbaijan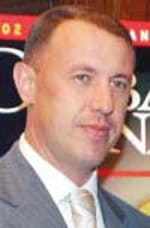 Jahangir Hajiyev, chairman, International

Bank of Azerbaijan

The International Bank of Azerbaijan has long been considered the top bank in Azerbaijanand not just for being market leader, with more than 50% of the countrys total banking assets.The bank has sustained its profitability and strengthened its balance sheet with the assistance of a syndicated commercial loan from an Austrian consortium headed by this years overall regional winner, Raiffeisenbank.
Recent developments include branching into the growing insurance and reinsurance market by creating an insurance companyIICand expanding its Azericard credit card services and ATM network. Internet banking was introduced for the first time last year, and privatization of the governments 50.2% stake is likely.
Jahangir Hajiyev, chairman
www.ibar.az

BELARUS


Priorbank


Sergey Kostyuchenko,

chairman, Priorbank

Raiffeisens timing of its acquisition of a controlling 61.3% of Priorbank looks spot on, as 2003 was a great year for Belarusian banks, with assets growing by 60% and profits nearly trebling across the board. Priorbank was no exception, with rapid growth across its range of businesses resulting in all principal bank indicators more than doubling.
Foreign ownership has strengthened Priorbanks credit and international banking connections. Recent deals include an IFC-backed loan, the first of its kind in Belarus, and an EBRD-arranged syndicated loan.
Priorbank expects to improve on its financial results again this year, with growth coming from a new focus on retail banking and, on the corporate side, more emphasis on SMEs (small and medium-size enterprises) and individual entrepreneurs.
Sergey Kostyuchenko, chairman
www.priorbank.by

BOSNIA AND HERZEGOVINA


Raiffeisen Bank BN

Austrian-owned Raiffeisen Bank Bosnia i Hercegovina wins the award this year for being not only the largest bank in this Balkan republic, with around 20% overall market share, but the most consistently profitable.
The bank continues to build on its market leadership position across all business segments with a policy of stable growth. It is launching a range of tailor-made products for corporates, SMEs and joint-venture players and should benefit from cross-selling with Raiffeisens locally based insurance, leasing, brokerage and investment groups. Cooperation with the EBRD remains close, and Raiffeisen recently became the first foreign-owned bank to conclude a syndicated loan to facilitate medium- and long-term financing to SMEs.
Edin Muftic, CEO
www.raiffeisenbank.ba

BULGARIA


DSK Bank

It was established out of a former state savings bank in 1998, but by last year DSK Bank was already second in size to Bulbank and was growing its retail operations rapidly. Last October DSK Bank was acquired outright by Hungarian market leader OTP Bank in a 311 million deal.The new owner is investing heavily with the aim of quadrupling profits and making DSK Bank Bulgarias largest bank by assets over the next four years.
Such confidence appears well placed, given DSK Banks performance last year. Profits were up by some 20% on the back of an 18.4% growth in assets and a similar increase in deposits.The bank is looking to further boost profitability by extending its range of retail products and services.
Krasimir Angarski, chairman and CEO
www.dskbank.bg

CROATIA


Privredna Banka Zagreb

A strong track record of profitability and innovation have won Privredna Banka Zagreb the award again this year.Now part of the Italian Gruppo Banca Intesa, the banks most recent profit statements show a 20%-plus hike on the back of 11% asset growth.
Privredna has reaped rewards from its PBZ American Express joint venture and is the leader not only in Croatia but in adjoining Balkan states. Almost all of Croatias banks are now under foreign ownership and benefiting from resulting reinforcement of their capital bases and new technological input. Its in feeding that through to the bottom line that Privredna has won out.
Bozo Prka, chairman
www.pbz.hr

CYPRUS


Bank of Cyprus

Its been a tough year for Cypriot banks, with lower interest rates and a slowdown in the economy. New regulations on interest suspension have required significantly higher provisioning, which turned a 21% improvement in core profits at Bank of Cyprus into a pre-tax loss.The market- leading bank has now taken the hit on provisions and is confident that underlying improvements in performance will come through.
The banks overseas operations helped support the bottom line, especially its 80-strong network in Greece, which contributed 42% of core profits last year. Given its strong capital base, the dynamic growth in its Greek operations and the broader benefits of EU accession, Bank of Cyprus is set to reap the rewards this year of market leadership combined with geographical diversification.
Solon A.Triantafyllides, chairman
www.bankofcyprus.com

CZECH REPUBLIC


Ceskoslovenska Obchodni Banka

Competition among the big three Czech banks, especially in the fastgrowing retail sector, has never been fiercer. Repeat winner Ceskoslovenska Obchodni Banka (CSOB), part of Belgiums KBC banking group, has succeeded in growing its retail loan book four times faster than the market, putting it in a stronger position than ever following EU accession.
Loans to individuals and SMEs rose by 51% last year, and savings products such as mutual loans grew by 43%, while successful cross-selling and new advisory services aimed at helping clients diversify their investments in local markets saw fees and commissions rise twice as fast as interest income. Headline profits were slightly lower in 2003, though this reflects a far smaller release of bad debt provisions than was made during the previous years dramatic recovery.
Pavel Kavnek, chairman and CEO
www.csob.cz

ESTONIA


Hansabank

The clear market leader in Estonia and the cornerstone of the eponymous financial group spanning all three EU accession Baltic states, Hansabank wins again this year on the strength of another 15% rise in pre-tax profits, improved credit quality and an excellent cost-income ratio.
A lower interest rate environment has led to fast growth in mortgage loans, though combined with stiffer competition this has also affected margins overall. Hansabank continues to build on its pioneering work in electronic banking, has over half of Estonias fast-expanding pensions market, and is better placed than most for Estonias accession to the EU.
Indrek Neivelt, chairman
www.hansa.ee

GEORGIA


TBC Bank

TBC Bank wins the award not just because it is Georgias largest bank by assets but also because it has shown innovation in adopting technology.The result has been a dramatic increase in its deposit base and in the volume of real estate loans made to its customers.
After more than doubling its profitability in 2002,TBC Bank has put in another sparkling performance last year, with asset growth of 40%, a strengthened balance sheet and net profits up another 30%. Little wonder, then, that a 25% stake in TBC Bank has been taken by Soros Investment Capital, the investment group linked to the fabled financier George Soros.
Mamuka Khararadze, chairman
www.tbcbank.com.ge

HUNGARY


OTP Bank

Another strong performance in 2003 ensures that market leader OTP Bank remains the bank of choice in Hungary. It has come a long way from its former incarnation as a state-owned savings bank, retaining its dominant market share while rapidly expanding its electronic and mobile banking capabilities and making strategic acquisitions elsewhere within the region.
OTP Bank posted a near-50% rise in pre-tax profits and boosted ROE by 30.5% last year. While the loan book grew at a prudent rate, non-interest income rose rapidly; it now accounts for 43% of the banks income. In consumer banking,OTP Bank has gained some 60% of the credit card market and, through OTP Mortgage Bank, over 40% of housing loans.
Sndor Csnyi, chairman and CEO
www.otpbank.hu

KAZAKHSTAN


Kazkommertsbank

Repeat winner Kazkommertsbank continues to expand rapidly and reward its shareholderswhich since last year include the European Bank for Reconstruction and Development (EBRD) with a 15% stakewith enhanced profitability and a succession of upgrades from the leading credit rating agencies. Last year saw another 10%-plus rise in net profits.
The largest bank in Kazakhstan by both capital and assets, Kazkommertsbank has a traditionally strong franchise among the countrys larger corporates. More recently it has been focusing on the fast-emerging SME segment of the market. It is also ex panding its range of retail services, including the relatively under-developed mortgage sector.
Nina Zhussopova, chair of management board
www.kazkommertsbank.com

KYRGYZSTAN


AsiaUniversalBank

The largest bank in this Central Asian republics nascent financial services sector, AsiaUniversalBank (AUB) comes out on top because by making intelligent use of modern technology, including Internet banking and smart cards, it has leapfrogged the countrys infrastructure gap and thereby won a growing band of large international and domestic clients.
The banks primary focus remains international trade finance for mainly corporate clients, in support of which it has developed a strong correspondent network across the CIS and beyond. But it has also gained a dominant position in debit cards and other money transfer platforms that can be used without holding an account. These are a raging success, and AUBs asset base has more than quadrupled over the past two years. At the same time, the balance sheet has significantly strengthened, and profitability leapt by up to 60% a year.
Nurdin Akerovich Abdrazakov, CEO
www.aub.kg

LATVIA


Unibanka

Unibanka, part of Swedens SEB Group, has recently become the largest lender among Latvian commercial banks. It continues to win retail customers in this tech-savvy Baltic republic through continuing technological innovation, the most recent success being its issuance of smart cards.
With Latvias economy showing GDP growth above 7% and interest rates falling, Unibanka has focused on retail and particularly mortgage lending, while the banks capacity to service the fast-growing savings market has been greatly strengthened by its purchase of leading asset manager Optimus Fondi. Operating income increased by 13% last year on asset growth of 23%, and the more modest 5% rise in pre-tax profits shows that Unibanka is investing strongly in the future.
Viesturs Neimanis, president
www.unibanka.lv

LITHUANIA


Vilniaus Bankas


Julius Niedvaras,

president and CEO, Vilniaus Bankas

Another member of the Swedish SEB Group,Vilniaus Bankas comes out on top again this year not only as Lithuanias largest bank but because of its innovative approach and financial discipline. After the annus mirabilis of 2002, profits were up a more sedate 4.6 % last year, though return on equity was maintained at 16.9% and earnings per share also rose.Discipline and ever-increasing automation yielded a 3.5% decrease in costs, while at the same time the banks assets rose by more than 29% and it gained market share in both loans and deposits.
The volume of mortgages and life insurance almost doubled, payment cards showed 25% growth, and both telephone and e-banking customers increased more than two times compared with the prior year.Vilniaus Bankas is also the most active brokerage house in Lithuania trading in stocks and securities, and its mix of businesses combined with professionalism will stand it in good stead following EU accession.
Julius Niedvaras, president and CEO
www.vb.lt

MACEDONIA


Komercijalna Banka

One of the leading commercial banks in this land-locked Balkan republic, Komercijalna Bankas latest figures show a near-70% increase in net profits a remarkable achievement amidst a static economy and worsening trade deficit. Moreover, local deposits have been seeping away into euro accounts.
Komercijalna Banka wisely drew in its horns on asset expansion and restructured its balance sheet, which has allowed the bank to lower its provisioning against bad or doubtful debts. Investment in technology continues to support its role as the countrys leading universal bank, and as interest rates fall, it has focused on corporate loans and especially micro-credits. International payments remains a big earner, while the fast-growing credit and payment card business saw a 62% increase in volume.
Trajko Davitkovski, chairman
www.kb.com.mk

MALTA


HSBC Malta

Ever since HSBC bought Maltas largest bank, the old Mid-Med, the re-branded HSBC Malta has gone from strength to strength. Last year pre-tax profits were up 23.8% despite adverse interest rate movements and the costs of gearing up for Maltas joining the European Union.
With more than half the local banking and mortgage markets, HSBC Malta has established itself as clear leader in this island republic. It also has leadership positions in life assurance and asset management.The bank grew its loan book by a modest 3.6%, and total assets actually shrank slightly last year. But in terms of customer service and professionalism, HSBC Malta stands head and shoulders above its competitors.
Chris Hothersall, CEO
www.hsbcmalta.com

MOLDOVA


Mobiasbanca

It may not be the largest player in Moldovas still fragmented banking industry, but Mobiasbanca wins the award for its consistent profitability. Indeed, the bank has nearly doubled net profits, with return on equity running above 20%, as well as turning in some enviable cost-to-income ratios.
Starting from a relatively low base, Mobiasbanca has been enlarging its overall market share by upgrading its retail banking, taking a leading role in developing the countrys fast-growing credit card industry. A long-standing cooperation with the EBRD in providing trade finance for Moldovan exporters was reinforced again last year.
Nicolae Dorin, president
www.mobiasbank.com

POLAND


Bank Handlowy w Warszawie

Poland has one of the most competitive banking markets of any of the EU accession states, and Citigroup-owned Bank Handlowy w Warszawie has had to fight hard to retain its title. Nonetheless, its successful integration within the broader group provides it with access to expertise and technologies, giving it a fresh competitive edge, while consolidation means that it is now responsible for all Citigroup settlements in Central and Eastern Europe. The gradual improvement in the Polish economy, now nudging 4% GDP growth, did not come through in time for the banks 2003 figures, though following a restructuring of the balance sheet and reorganization of its branch network Handlowy is much more optimistic about 2004. It is building on its already strong position in corporate lending with a sharper focus on the emerging SME market, while a 60% increase in Internet banking transactions helps consolidate its leadership in the increasingly competitive credit card market.
Slawamir Sikora, president
www.citibank.pl

ROMANIA


Raiffeisen Romania

Raiffeisen may not be Romanias largest bankit is ranked third by assets but it wins the award this year for its remarkable turnaround in the two years since privatization. Investment in IT systems and personnel training have led to significantly improved financial figures in 2003, and this year the bank is planning to increase total assets by 60% and improve its performance ratios across the board. Foreign ownership provides easier and cheaper funding for loans and upgrading the banks range of products and services. More than 40 million is currently being invested in IT, improving the branch network and building up ATM and EPOS coverage. Raiffeisen is confident its enhanced capability of delivering quality services through multiple distribution channels, including telebanking and e-banking, will further strengthen its market position in Romania.
Steven van Groningen, president and CEO
www.raiffeisen.ro

RUSSIA


MDM Bank

A front-runner among Russias privately owned banks, MDM wins for its leadership in aligning with IAS (International Accounting Standards), for providing corporate banking services to the fast emerging mid-size blue chips in the region, and for its strong bond issuanceincluding its own $200 million three-year eurobond.
On the retail side, it is revamping its network of micro-offices and targeting the emergent middle-class customer by offering new product lines, such as mortgages, and investing strongly in retail software.With its enhanced credit rating and profitability buoyed up by stringent cost controls, MDM looks set to rule the roost in the Russian private sector.
Vladimir Rashevsky, CEO
www.mdmbank.com

SERBIA AND MONTENEGRO


Raiffeisenbank

In less than three years of operations, Raiffeisenbank has succeeded in taking a leading position among foreignowned banks and is now the fourthlargest overall in Serbia. It wins the award for its consistent increase in market share, with a fourfold increase in lending to corporates last year and for its leadership in introducing new banking products across the board, being the first to offer housing loans to private individuals.
Expanding its range of offerings this year will see the introduction of new VISA card products, e-banking for individuals and a range of new loan productsis combined with expanding the branch network across the country, with another nine scheduled to open during 2004.
Budimir Kostic, chairman
www.raiffeisenbank.co.yu

SLOVAKIA


Tatra Banka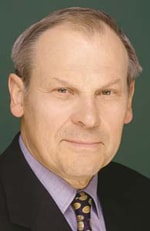 Rainer Franz,

chairman, Tatra Banka

Slovakia is the site of another country- best for a subsidiary of this years overall winner,Raiffeisen, though the lower interest rate environment is changing Tatra Bankas focus from its traditional dominance in the corporate sector toward a more retail-orientated approach.
A pioneer in offering Internet banking,Tatra Banka continues to expand and refine its offerings at a time when customer requirements in Slovakia are becoming more differentiated. It already has leadership in private banking, mortgages and payment cards, and at a time when most Slovak banks are closing branches,Tatra Banka has the confidence to expand its 104-strong branch network. It is also profiting from synergies with its parent group, offering cheaper and speedier euro payments through other RZB-owned banks, as part of its overall strategy of servicing customer needs in the most cost-efficient way.
Rainer Franz, chairman
www.tatrabanka.sk

SLOVENIA


Nova Ljubljanska Banka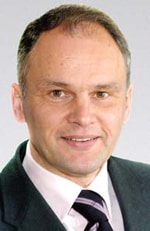 Marjan Karmar,

president of management board, Nova

Ljubljanska Banka

Repeat-winner Nova Ljubljanska Banka holds more than a third of all banking assets in this most prosperous of EU accession states and is committed to remaining the countrys leading universal bank despite growing competition from foreign banks.
Lending margins have been squeezed as interest rates dropped, but NLB responded by focusing on SMEs and especially in providing foreign currency export loans, which leapt by 143% last year. It is moving aggressively into the new savings market, and with profits comfortably up again in 2003, NLB will be difficult to dislodge from its pole position.
Marjan Karmar, president of management board
www.nlb.si

TURKEY


Akbank

Akbank wins again this year after improved performances across the board. Its strategy of targeting SMEs and consumer credit has paid off both in terms of market share and in a jump of 57% in net fee and commission incomeas has its aggressive move into mutual funds, where it is now second-largest provider among private investment banks.
Already one of the best-capitalized banks in Turkey,Akbank strengthened its balance sheet while growing its assets at nearly four times the overall market rate. It improved its ROE to an impressive 30.3% and recorded a 24% increase in operating incomeand looks set to improve further by focusing on higher margin segments and a more customer-responsive management structure.
Zafer Kurtul, president and CEO
www.akbank.com.tr

UKRAINE


Privatbank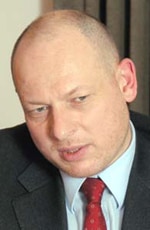 Alexander Doubilet,

chairman,Privatbank

Ukraines leading bank wins the award again this year for its continuing expansion into new areas and for another set of excellent results, with profitability nearly doubling on just over 10% net asset growth. Early investment in key technologies such as payment systems is also paying dividends.
With the Ukrainian economy on the rise once more, Privatbank is particularly well placed to benefit. It has an enviable core client list among the larger corporates. Meanwhile the bank is building its retail business by extending its range of products and services, including real estate and vehicle credit schemes.
Alexander Doubilet, chairman
www.pbank.com.ua

UZBEKISTAN


National Bank of Uzbekistan

State-owned market leader National Bank of Uzbekistan has been a key player in the economic liberalization and ongoing privatization programs in this fast-growing but still very centralized economy. The bank has itself been going through a period of rapid change as it prepares for a 40% privatization slated for later this year, introducing new management systems to build greater transparency and accountability to its future shareholders.
The first bank in Uzbekistan to conform to International Accounting Standards (IAS), it expects to build on existing strong credit lines from the EBRD, the Asian Bank of Development (ABD) and others by directly tapping international markets. Last year its loan portfolio grew by nearly 40% while its client base grew by 20% thanks to an expanded range of services including Internet banking and an integrated card and ATM network.
Zainiddin Mirkhodjaev, chairman
www.nbu.com