Slumping transaction volumes mean even the best law firms are taking some of the pain.

The past year wasnt expected to be much more successful for financial lawyers than the preceding one.And it wasnt.The halcyon days of thriving M&A; activity, ambitious project financings and the IPO boom now seem a long time ago.With transaction volumes down, law firms in key financial centers face the need to rebalance costs and revenues.
Consultants PricewaterhouseCoopers annual Financial Management in Law Firms survey showed declining profits at a third of the top 100 UK law firms last year. The report said that firms were shedding jobs at an unprecedented rate,blaming the M&A; and IPO drought for the lack of work.The firms are pushing their staff harder and harder, but its not coming through on the bottom line, said the report.
Debate over fee levels is part and parcel of the relationship between firms and their clients.The debate was given added focus in October by the leak of an internal memo from Clifford Chance.The memo, written by associates, said that billable hour targets put strain on young lawyers and pointed to the possibility that this might encourage them to falsify time sheets.The memo claimed that the New York office expected junior lawyers to put in 2,220 hours per year.
Many top law firms came out to say that there was no link between pay, promotion and annual billing targets. Someincluding from within the magic circlesaid that they had no such targets in the first place.One reason given is that, indeed, such targets might pose ethical problems.
American law firms tend to count their billable time less conservatively than English and European firms (and therefore are inclined to charge less per hour),but there is a gradual move anyhow away from a timebased fee breakdown.
Fixed-rate billing has become more popular in recent years, and value-added billing is easily implemented in those jobs (such as tax and anti-trust work) where lawyers contributions are seen clearly in the bottom line. Around 15% of the income of the UKs 100 top firms comes from fixed fees.
The argument over billing is the last thing that law firms need in a year when theyve had precious little to bill anyhow. But its not all doom and gloomor, rather, there are law firms capitalizing on the current economic and corporate doom and gloom. Funeral directors to the business world, bankruptcy lawyers have plenty to keep them busy.
Enrons fall has given some juicy work for those who are clearing up the mess. In all, 23 firms are acting either for Enron or the companys unsecured creditors. They have so far run up a bill of more than $175 million (the bankruptcy as a whole will likely cost more than $300 million when other professional services and costs are added to the tally). Enrons lead adviser Weil Gotshal & Manges had billed $53.5 million by the end of last year.The firm, along with next biggest invoicer in the case Milbank Tweed (at $24.2 million so far), was asked by the court-appointed examiner of fees to knock down some of their expenses.
These high-profile bankruptcies are joined by a host of smaller bankruptcies and restructurings th
at are keeping some sections of law firms busy. Some law firms, for example Norton Rose in September, have set up dedicated restructuring teams, whereas before there was not such a focus.
Another driver is the passing of the Sarbanes-Oxley act last August.The act creates new white-collar crimes, with stiff penalties, and lowers the bar for proving fraud.The range of areas that the act covers is broad,and the details complicated.
Lawyers will not simply have to interpret Sarbanes- Oxley and advise as to how companies must meet its demands; they may find themselves implementing it. Section 307 of the act requires that lawyers report worries they may have about a companys fulfilling and which is worrying the industrythat they blow the whistle on failures to allay concerns. Lawyers are clearly not keen to become corporate policemen, nor to ditch principles of client confidentiality.
In advance of formal guidelines on how to implement Sarbanes-Oxley, leading firms have taken the unusual step of circulating papers on how they intend to interpret it, clearly hoping to drive the debate along lines they consider sensible.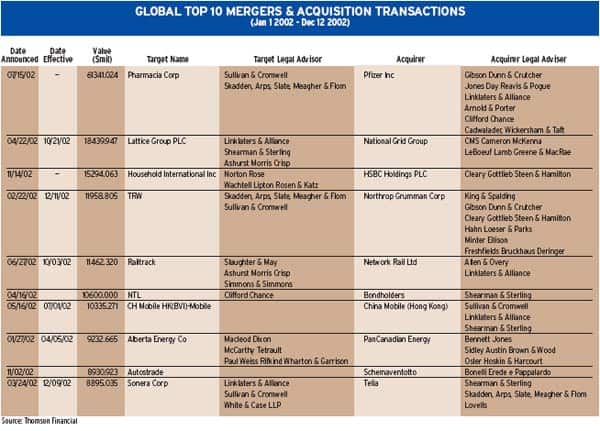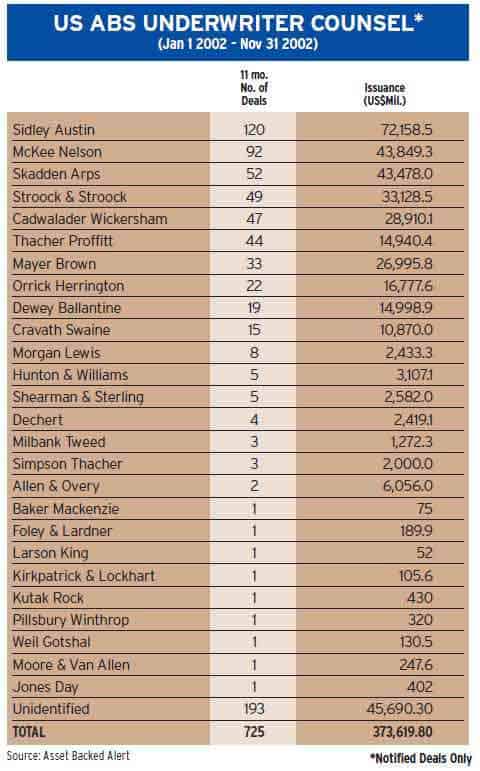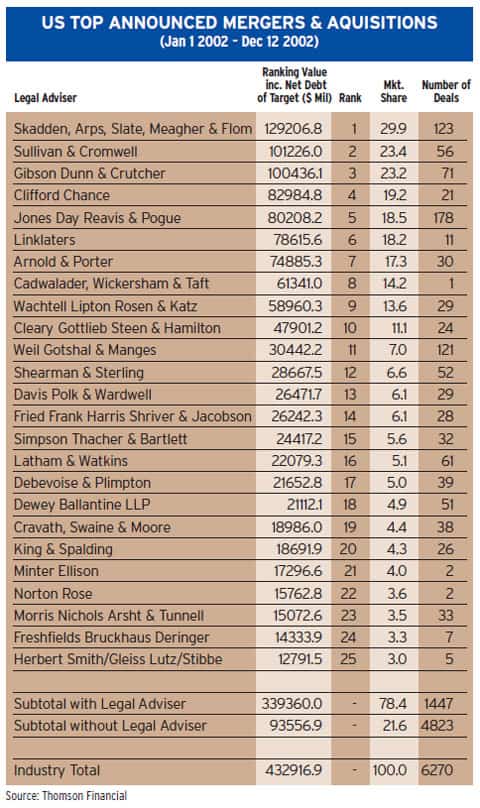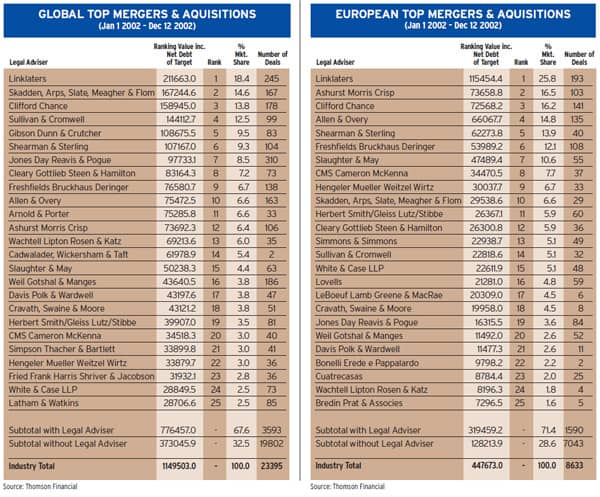 Benjamin Beasley-Murray