Portugals government is risking unpopularity in an attempt to inject renewed dynamism into the countrys economy.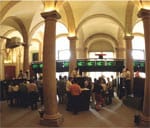 Jos Scrates, the prime minister of Portugal, recently described his country as the reform capital of Europe and referred to his governments policies as daring and historic. He may have been exaggerating somewhat, but he has a point: Under his administration, the role of the state in the Portuguese economy has decreased for the first time in 30 years.
His efforts are certainly groundbreaking, but nobody is expecting fireworks from Portugal in 2007. Scrates labors will not bear fruit for years, and improvements seen in the meantime will be modest.
The outlook is one of recovery and economic growth, says Rui Constantino, chief economist at Banco Santander de Negcios, Portugal, adding that 2005 was a year of economic stagnation, but growth accelerated in 2006 to 1.2%, and that should now continue in 2007. His words wont satisfy many, however. Though 2006s growth was a welcome surprise, it could hardly be described as anything other than modest.
For Constantino, however, there is a key difference this year: Economic growth is broadening from external demand to domestic demand. The 2006 growth was led by swollen world demand for Portugals exports. Productivity remained stuck in the doldrums, and consumer confidence was depressingly low. Constantino sees both changing, with renewed vigor in the corporate sector and boosted productivity.

Tangled in Red Tape

Not everyone, however, shares Constantinos rosy view. There are a lot of regulations that decrease productivity, says Olivier Blanchard, an economist at Massachusetts Institute of Technology. It would be good if they got rid of them, but politically its very unexciting. The worry is that they will do high-tech projects like highways, fast trains.
All agree, however, that Scrates is tackling the nations biggest problem head on. The government continues to pursue strategies committed to bringing the deficit down, says Gonzalo Pascoal, chief economist with Millennium bcp. Things seem very well structured to hit 4.6% for 2006, with the government aiming at 3.7% for 2007.
This is no arbitrary figure. The European Commission has given Portugal until 2008 to reduce its deficit to the 3% specified in the European Unions Growth and Stability Pact. With Portugal still receiving significant sums from the EU regional and structural funds, the government is determined to meet this goal. This year will test its commitment.
The difference between 2007 and 2006, comments Pascoal, is that the bulk of the measures are focused on the expenses side. This will involve some decidedly unpopular moves. Civil servants will lose tenureputting an end to the job-for-life culturethe retirement age will increase, and wages will be capped. Fringe benefits for civil servants, such as free healthcare, will also be scrapped.
Such moves will face fervent opposition. In November, for example, the minister for education, Maria de Lurdes Rodrigues, said that she wasnt planning to put a single teacher into the special mobility scheme, a retraining program designed to usher civil servants into the private sector. But the markets are confident that, despite such opposition, Scrates will achieve his goals. Things are on the right track, says Constantino. In the business world, we just need to see more information in terms of which departments will be restructured. And by June we should know.
Indeed, some markets are entering 2007 with unshakeable confidence. The banking sector has come through Portugals lean years with remarkable ease. Over the past few years, economic growth has been below 1%, unemployment has jumped from 4% to 8%, says Constantino, and yet you havent seen any deterioration in terms of delinquency ratios. Indeed, the banks are in better shape now than ever. Portugals banks have been very active in reducing cost-to-income basis and capital-ratio positions. Theyre in good condition to support the economy in its improvement, he says.
Constantino predicts a strong rise in the corporate sectors demand for credit. However, he believes the debt markets will continue to underperform. There could be some positive developments. But small companies are very dependent on bank credit, because there has not been the tradition in terms of going to the capital markets. Larger companies have been somewhat dynamic, but in the international market, not the domestic market, he says.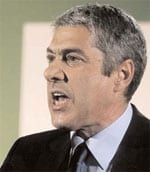 Tough talk: Scrates

reforms may not

bear fruit for years

The one bright spot is in the distressed debt sector. Now we see Portuguese banks which have kept their distressed debt on the balance sheet selling it on to institutional investors who take a more proactive approach to managing distressed debt, says Pedro Siza Vieira of Linklaters Portugal. I do believe this line of work will probably mature in the course of the year.
Though the banking sector remains on solid footing, the standout market is undoubtedly mergers and acquisitions. Two deals are bringing the new year in with a bang, with Sonaes bid for Portugal Telecom and Millennium bcps approach to Banco Portugus de Investimento (BPI). These two deals by themselves lend support to making the first part of 2007 a very interesting period, says Pascoal. They will continue to support interest in the Portuguese stock markets.
Interest will indeed be high, not least because 2007 will also see a rash of privatizations. Companies on the block will include the electricity network Rede Elctric Nacional (REN), airports authority Aeroportos e Navegao Area (ANA) and perhaps even a further offering on Energias de Portugal. [The markets] look better than general equities in Europe, says one equities analyst, and thats the least you can say.
The smart investors, however, will be looking beyond at more than just equities in Portugal. Many observers cite the countrys construction slump as a telling feature of economic malaise and, inasmuch as it is a symptom of the countrys painful withdrawal from a history of state-funded development, they have a point.
But such indicators can be misleading. With respect to real estate generallyhousing, retail and office spaceweve seen a number of investors worldwide looking to real estate assets as a very good alternative to traditional capital market investments, says Siza Vieira. We have done, and expect to continue to do, a lot of work for those investors hoping to find space. There are still very high yields in investments done in real estate.

Hugh Collins