NEWSMAKERS: UNITED STATES
By Gordon Platt
Kenneth Feinberg, the Boston-bred lawyer who oversaw the process of paying out billions of dollars to victims of the 2010 oil spill in the Gulf of Mexico, was relieved of his duties last month, following BP's $7.8 billion class-action settlement with more than 100,000 individuals and businesses.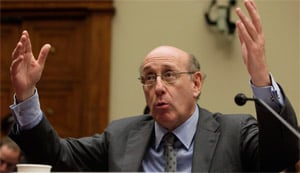 Feinberg relieved of his duties
In New Orleans, US district judge Carl Barbier called for a court-appointed administrator to take over the process of paying out claims from BP's $20 billion Gulf Coast Claims Facility. Feinberg and the judge had clashed earlier: The judge had ruled in February 2011 that Feinberg was not independent from BP and must clearly disclose in all communications with potential claimants that he was acting for and on behalf of BP.
Feinberg, who previously oversaw the September 11 Victim Compensation Fund, was appointed in June 2010 by president Barack Obama and BP to run an independent facility. "It is very important to state that I am beholden to neither the administration nor BP," he said at the time.
Earlier this year, Feinberg temporarily halted all payments from the BP oil spill fund in the wake of a ruling by Judge Barbier that 6% of all settlements reached be set aside to finance the work of plaintiff attorneys, some 340 attorneys from 90 law firms.
Feinberg says it was an honor to oversee the claims process that BP created after the April 2010 explosion at the Deepwater Horizon facility, which killed 11 workers and spilled approximately five million barrels of oil, affecting fisheries, tourism and the environment. "I think we did the job, and we did it right," he says. Feinberg processed more than one million claims from 574,000 claimants from all 50 states and 35 foreign countries.
For BP, the legal wrangling is far from over. The class-action settlement does not cover civil penalties that could reach $20 billion, or double that if damage to wetlands and beaches is included. The Department of Justice could pursue criminal penalties that are twice that for the economic damage.