NEWSMAKERS: US
By Valentina Pasquali
Ford Motor Company recently unveiled a two-year succession plan geared toward a full management reshuffle by 2014. The centerpiece of this arrangement was the appointment of Mark Fields as chief operating officer, effective from December 1.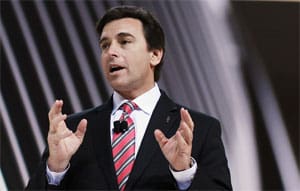 Fields is expected to take over in 2014
Fields, 51, was in charge of operations across the Americas at the time of his promotion in October. "He has been with the company for more than 20 years in a variety of capacities, so he certainly has the experience," says Jessica Caldwell, senior analyst at Edmunds.com. "Being [CEO, Alan] Mulally's right-hand man during what have been the most transformative years for Ford in the modern era has been a valuable development experience."
If all goes according to plan, Fields is expected to take over from Mulally in 2014, when the 67-year-old chief executive credited with engineering the company's successful turnaround is likely to retire.
"Fields is a very smart guy. He has seen what works and has bought into it, and he is not going to depart from that philosophy," says David Cole, chairman emeritus of the Center for Automotive Research.
But a succession plan of this magnitude doesn't come without challenges. "To say Mulally's shoes are big to fill is an understatement, so every move made by the future Ford CEO will be watched and scrutinized," says Caldwell.
According to Peter Nesvold, an analyst at Jefferies equity research, a transition process that starts too early can have the unintended consequence of shrinking the management pool as executives who feel they are being overlooked leave the company. "GE saw this back in 2000 and 2001 and, in a twist of fate, one could argue that a somewhat similar process drove Mulally from Boeing to Ford," says Nesvold. "In this case, Fields has been perceived to be the front-runner for several years, and, as president of the Americas [region], several of the other contenders were directly or indirectly reporting to him, so I don't see too many 'bruised egos' getting in the way."