NEWSMAKERS: ICELAND
By Luca Ventura
As his trial commenced in March in Reykjavik, Geir Haarde, the former prime minister of Iceland, was the first world leader to face criminal charges over the 2008 financial crisis. Haarde, 60, could serve up to two years in prison if found guilty.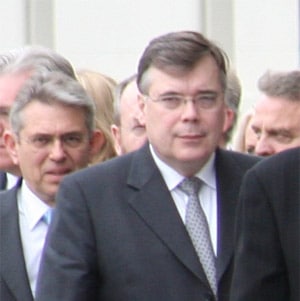 Haarde denies charges that he knew Iceland's banking system was about to implode
The politician, who resigned in January 2009, forced out by a tide of public protests, denied any responsibility. "I reject all accusations and believe there is no basis for them," he stated at Landsdómur, a special court convened for the first time in Iceland's history. "Nobody predicted that there would be a financial collapse; we knew about the crisis, but not the banks' lack of accountability and their illegal activities," he said.
Many observers agree. Whereas the prosecutors pointed at Haarde's negligence in implementing measures to strengthen Iceland's economy, even the country's financial regulators—as also noted by the ex–prime minister during his first hearing—failed to gauge the extent of the banks' liabilities. International auditors, Haarde added, helped to cover up the state of their balance sheets.
With a verdict expected in the next few weeks, Icelanders are divided between those who demand public accountability and those who see Haarde as a scapegoat. The global crisis led to the implosion of Iceland's three main banks—85% of the country's financial system—revealing a collective debt of more than 10 times the national GDP. By the time he had stepped down, unemployment and inflation had soared, and Iceland's currency, the krona, had nosedived by 50%.
Predictably, Haarde's case has sparked an international debate. Whether this could be the beginning of a global trend,with more politicians, and perhaps even bankers, taking the stand in their respective countries, remains to be seen, and will depend to some extent on the Reykjavik court's ruling.
Certainly the prosecutors and jury are walking a very thin line, notes Hannes Gissurarson, a professor at the University of Iceland who sat on the board of Iceland's central bank from 2001-2009. "Haarde may be a failed politician," says Gissurarson, "but is he a criminal?"