China's rise is contested by other powers.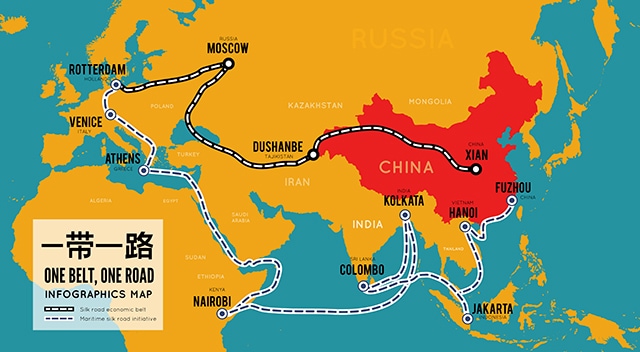 Superficially, it is an agreement to boost Indo-Pacific infrastructure investment; but look deeper and the memorandum of understanding signed in November by the United States, Australia and Japan, which puts in operation the Trilateral Partnership for Infrastructure Investment in the Indo-Pacific, appears a thinly disguised counter to China's Belt and Road Initiative (BRI).
"We intend to work together to mobilize and support the deployment of private-sector investment capital to … achieve mutual development goals in the Indo-Pacific," said a joint statement issued by the White House, Australia's Department of Foreign Affairs, the Japan Bank for International Cooperation and the U.S. Overseas Private Investment Corporation.
The signature project of Chinese President Xi Jinping has drawn increasing criticism amid claims Beijing is engaging in "debt diplomacy" to extend its reach. Critics argue loans made under the BRI often contain disadvantageous terms to borrowing countries, allowing China to seize strategic assets or natural resources in the event of default. Although Beijing has mounted a strong pushback against the allegations, the BRI's opaque structure has put China on the defensive.
The development will likely rankle Beijing and heighten trade tensions. "This is no doubt a strategy to contain China," says Alicia Garcia Herrero, chief economist for Asia-Pacific at Natixis. "The US introduced the concept of an Indo-Pacific alliance in its 2018 National Security Strategy, and it is clear the wider international community is increasingly worried about China's territorial ambitions." "The whole developed world is trying to contain China," Garcia adds.
Still, the absence of any specific details about funding commitments raises doubts the memorandum will have any meaningful impact against the BRI. "While no one knows how much money China has invested, most estimates of pledges exceed the trillion-dollar mark," says Veljko Fotak, assistant professor of finance at the State University of New York at Buffalo and fellow at the Baffi Carefin Center for Applied Research on International Markets, Money and Regulation. "This is like trying to steal customers from Coca-Cola by opening a lemonade stand on the sidewalk in front of your home."