MILESTONES: UNITED KINGDOM
By Anita Hawser
Before the 2008 financial crisis ripped through the world's markets, the UK's Financial Services Authority was renowned for its light-touch approach to regulation.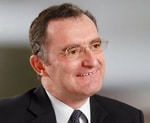 Davies, RPC: Big jump in FSA fines
In the aftermath of the crisis, that same light touch was blamed for enabling a so-called casino-style banking culture to proliferate. It's no coincidence that when it came to power last year, the UK's new coalition government quickly sounded the death knell for the FSA, which will be split into two bodies, the Prudential Regulation Authority (PRA) and the Financial Conduct Authority (FCA).
But the FSA appears to want to "go out with a bang" by sharply increasing the levels of the fines it levies. According to figures provided by London law firm Reynolds Porter Chamberlain (RPC), the FSA tripled the value of fines it collected from financial services providers in just one year (to March 31) from £33.1 million to £96.7 million. The fines were for a range of offenses, including market abuse and failure to protect client assets.
RPC says the FSA imposed 15 £1 million-plus fines last year worth £86.9 million, an increase of 216% on fines levied in 2009. The average fine handed down by the FSA last year was also up by 49% on 2009 levels, says RPC, increasing from £739,284 to £1,099 million.
"This is quite an extraordinary cranking up of the FSA's enforcement activity," says Jonathan Davies, a partner in RPC's financial services team. "We are now beginning to see fines for conduct that occurred at the start of the credit crunch. There has been a steady increase in the number and value of fines imposed since September 2008, but this is by far the biggest jump."
However, according to Davies, this may only be the tip of the iceberg. "A significant concern we hear from clients is that the two new regulators will compete with each other to set the highest fines." The only upside, says Davies, is that firms will pay 2% less to fund regulation this year than they did last year, despite a 10% increase in the funding requirement from £454.7 million in 2010 to £500.4 million for 2011–2012.