CHINA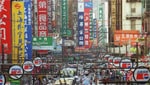 Keeping busy: China's policymakers are moving fast to maintain domestic economic activity as global growth ebbs.
Following years of double-digit growth in its gross domestic product, China's economic growth came in at a weaker-than-expected 9% in the third quarter. While the country is clearly feeling a draft as a result of the global economic slowdown, it is unlikely to catch a cold, much less anything worse, economists say.
China's policymakers are expected to move quickly to stimulate economic growth through further monetary and fiscal moves, following the decline from a 10.8% growth rate in the first half of 2008 and nearly 12% growth in 2007.
"People who are predicting doom and gloom for China's economy say that the economic and financial market crisis in the developed world has to translate into a period of sub-par economic growth in China," says Carl Weinberg, chief economist at Valhalla, New York-based High Frequency Economics. "We see no sign of that so far," he says.
China's trade surplus in the third quarter widened to $84 billion from $57 billion in the second quarter. "Exports continue to chug along, averaging 20%-plus yearly gains," Weinberg says. The true engine of economic growth in China is domestic investment spending, he says. Private investment has generated half of China's GDP growth in the past five years, and it continues to expand rapidly.
"Unlike the G-7 [Group of Seven industrialized] countries, which have built their recent prosperity on top of a pyramid of debt with very shaky foundations, China's economy is anchored by a foundation of savings," Weinberg says.
China cut interest rates and lowered banks' required reserves on October 8 as part of a coordinated effort by global central banks. The government also was preparing last month to announce tax cuts and increased infrastructure investment, according to officials. Meanwhile, China's consumer price inflation fell to a 15-month low of 4.6% at an annual rate in September.
Gordon Platt