MILESTONES: GLOBAL
By Gordon Platt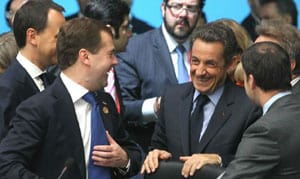 Comic relief: G20 leaders laugh despite deficit deadlock
At last month's Seoul summit of the G20—or the G19+1, as one senior Asian central bank official recently dubbed it—the US was isolated from the other world economic powers by the Federal Reserve's decision to print hundreds of billions of dollars to boost the struggling US economy. Printing more dollars is undermining the greenback, critics claim—a view that became all the more convincing after former Fed chairman Alan Greenspan said: "America is pursuing a policy of currency weakening."
If true, this is the same type of currency manipulation that the US accuses China of committing by pegging the undervalued yuan to the sinking dollar. US Treasury secretary Timothy Geithner, who has responsibility for the administration's dollar policy, responded: "We will never seek to weaken our currency as a tool to gain competitive advantage or to grow the economy."
This declaration sounded similar to his predecessors' mantra that "a strong dollar is in the best interests of the US." Unable to come up with any agreement in Seoul on resolving conflicts over currency and trade, the G20 created its own mantra: "Persistent global imbalances pose a threat to economic stability."
The G20 summit's failure was predetermined when China and Germany rejected targets for current accounts. In the end, the leaders agreed to set vague "indicative guidelines" on identifying imbalances, secure in the knowledge that they lack the enforcement mechanisms to require countries to change their policies.
The reality is that the G20 is a self-appointed body that lacks the power to act assertively. Countries will not subjugate their own self-interests to the common good unless they are forced to.
The G20 did agree, however, to reform the International Monetary Fund to give more say to developing countries. China will get a greater role on the IMF's governing board, and countries such as Brazil and South Korea will have a stronger voice. A revamped IMF with broadened powers may be the best hope for real progress on creating a new world economic order.