A revolution toppledOmar al-Bashir and now a caretaker government is trying to guide the country to democracy.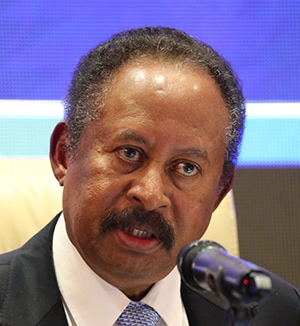 Sudan is taking its first bold steps toward democracy, after more than half a century of almost uninterrupted internal and external conflicts, nearly 30 years of authoritarian rule and multiple economic shocks. In September, Prime Minister Abdalla Hamdok formed the first cabinet since widespread street protests led to the removal of longtime ruler Omar al-Bashir in April.
Hamdok, an economist who has worked for the United Nations and African Development Bank, was appointed PM after the military and protesters signed a constitutional declaration paving the way for a three-year transition to civilian rule. Among the members of his government are a former World Bank economist and the country's first female foreign minister.
Saying that Hamdok faces a daunting task would be an understatement. "His priority must be to implement peace with the insurgent groups in Darfur and Southern Kordofan and in the Nuba mountains," says Khalid Mustafa Medani, chair of the African Studies Program at McGill University in Montreal. "While the issue of the economy is extremely vital, there can be no progress without the peace dividend required for economic development to proceed."
"Together with establishing lasting peace with rebels, his most difficult challenges are to institute a full civilian government with complete separation of powers, and ensure that the military remains outside of civilian affairs and politics," Medani continues. "He should approach these challenges by appointing the qualified technocrats and professionals in all the ministries, enlist international support to ensure the military does not intervene in domestic politics, and forge a close economic relationship with South Sudan in order to facilitate economic development."
"Hamdok has the unenviable task of having to square many circles," agrees Abdelwahab El-Affendi, dean of the School of Social Sciences and Humanities at the Doha Institute in Qatar. "Nursing the economy to health without provoking a revolution will be tricky, as it will be purging the civil service without destroying it and striking a deal with rebel groups without provoking the army and allied militias." In the midst of all that, El-Affendi says, Hamdok will have to walk a fine line amid turbulent Arab politics, "all while keeping his government afloat in the coming rough weather."