NEWSMAKERS: SWITZERLAND
By Valentina Pasquali
In the midst of Europe's sovereign debt crisis, a scandal hit the beleaguered continent's financial system in January.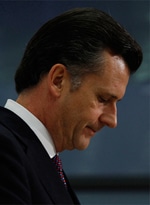 Hildebrand forced out of Swiss Central Bank role
The head of Switzerland's central bank, Philipp Hildebrand, resigned after being tainted by allegations about foreign exchange transactions conducted by his wife, a Pakistan-born US citizen and former currency trader. This past August in particular, she sold 400,000 Swiss francs for $504,000 just days before the Swiss National Bank, chaired by her husband, intervened to lower the value of the franc. The deal made the couple a profit, leading to accusations of insider trading.
Hildebrand originally resisted calls for his resignation. He said his wife, whom he described as having a "strong personality," informed him of the transaction only after it had happened and that he immediately reported it to the bank's compliance officers. He also claimed to have been a victim of a political attack from the right-wing Swiss People's Party, who had long criticized him.
But a barrage of criticism forced him out. "A central bank chief or his wife cannot be seen doing forex deals on their own account," says Pierre Bessard, president of the Liberales Institut, a Swiss research institution. "Mr. Hildebrand's behavior was extremely unprofessional, and his excuse that his wife has 'a strong personality' is ridiculous."
Given the difficult economic conditions in Switzerland, some observers worry about the effect this change at the top might have on the country's financial future. "Especially in the current situation it is important for Switzerland to have a central bank solid as a rock," says Professor Jan-Egbert Sturm, director of the KOF Swiss Economic Institute at ETH Zurich. "For that, stability in the governing board is a necessary condition."
The departure is unlikely to affect the SNB's strong mandate to lower the value of the franc relative to the euro in order to help the country's export-based economy. "I don't think there will be drastic changes to Switzerland's monetary policy in the foreseeable future," says Timo Klein, an analyst at IHS Global Insight. "I also wouldn't worry right now about any impact on Switzerland's economic outlook."
At the time of writing, the SNB had not made any announcements regarding Hildebrand's possible successor.