UNITED STATES
By Gordon Platt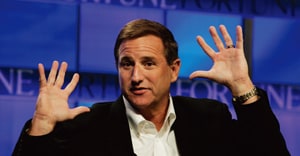 Who me? Hurd's multi-million dollar payoff riles investors
Mark Hurd received a $20 million Golden Hello when he joined as chief executive of Hewlett-Packard in 2005, and a Golden Handshake that could be worth as much as $40 million when he resigned on August 6, following an investigation into a sexual harassment claim and expense-report irregularities. Hurd was allowed to resign rather than be fired, after he reached a private settlement of the sexual-harassment claim.
Hurd's executive compensation agreement made it difficult for HP's board to dismiss him outright and enabled him to leave with a generous severance package in spite of his admission that "I did not live up to the standards and principles of trust, respect and integrity that I have espoused at HP."
A Massachusetts-based pension fund sued Hurd and HP's board on August 10, seeking punitive damages for breach of fiduciary duty, mismanagement and waste of corporate assets, including the severance payment to Hurd. While US shareholders will gain the right next year to vote on resolutions regarding executive compensation, these votes will be nonbinding, and companies will still pay a premium to lure high-performing talent.
Hurd's Golden Hello at HP included $14.9 million of options and restricted shares, a $2 million signing bonus, a $2.75 million cash relocation allowance, free housing for a year and a four-year mortgage-interest subsidy. HP also agreed to reimburse Hurd for a decline in the value of his shares of NCR, the company he was leaving. The agreement also stated that all performance goals for the second half of fiscal 2005 and the first half of fiscal 2006 would be deemed to have been achieved on target for the purposes of Hurd's annual incentive payment.
HP's faith in Hurd was rewarded in the first few years of his tenure, when he helped turn the company into a market leader. HP's mediocre performance in recent years, however, makes Hurd's Golden Handshake difficult to justify, other than as a possible guarantee against being sued for wrongful termination.