Botswana is betting on its financial sector to diversify the economy.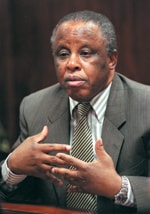 Festus Mogae: The IFSC initiative is about creating jobs

Since gaining independence from Britain in 1966, Botswana transformed itself from one of the worlds poorest countries into a middle-income emerging market. The southern African nations 9% average annual growth over the past three decades gained it the continents highest sovereign credit ratings (A by Moodys and AA by Standard & Poors). Yet with an economy overly dependent on diamond exports, the government has embarked on a diversification plan that includes turning Botswana into a regional financial hub.

The government has tried its hand at diversification in the past, but several factors are lending recent efforts a greater sense of urgency. Diamond production, which accounts for some 80% of the value of Botswanan exports and is by far the governments main revenue source, appears to be peaking. Debswana, the local mining company jointly owned by De Beers and the government, is under pressure to find new diamond deposits.

Labor issues are another major concern. Unemployment is near 16%, and an HIV/AIDS epidemic has infected 38.5% of the populationthe worlds highest infection rate, affecting mainly people in the prime 15-40 age range. This increases the cost of employee benefits, boosts absenteeism, depletes the workforce, drains public resources and cuts household income. A mid-year economic review by Stanbic Bank, released in June, voiced optimism over Botswanas prospects, however: The improved global economic outlook, the 7.5% devaluation of the Botswana pula (BWP) in February and the hike in rough diamond prices by 8.5% so far this year by the Diamond Trading Company should result in a welcome boost to mining value added in 2004-2005, the report said. It went on to predict that mining sector output will also benefit from the Mupane gold mine, which is expected to produce its first gold later this year. Copper and nickel mining also contribute to sector revenues. At the same time, organizations such as the Bill and Melinda Gates Foundation, drug maker Merck and the US government are trying to help fight the AIDS/HIV epidemic with the aim that antiretroviral drugs will become available to all who need them within five years.





New Ideas for New Growth


The government is also taking steps to develop new revenue sources. Botswanas Ninth National Development Plan for 2003-2009, which focuses on diversifying the economy away from mineral production, targets the financial sector and tourism as key growth areas. As part of this plan, the government has created the International Financial Services Center (IFSC), a legal mechanism that grants financial institutions and related companies such benefits as a maximum 15% tax rate through 2020 and an exemption from local withholding taxes. In return, companies must commit to increasing employment, transferring know-how to local workers and proving they will generally benefit the local economy. Certified companies can set up shop anywhere in the country, although BIFM, a large local pension fund manager, is developing an office complex in Gaborone to house IFSC firms. There are plans for other developers to establish similar complexes.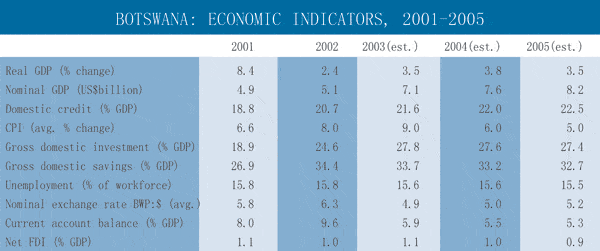 Note: Data for 2003-2005 are forecasts published in December 2003.

Source: Standard & Poor's



The scheme is available only to foreign companies, but a recent amendment to the income tax code allows IFSC companies to conduct business with related local parties. More than 20 companies, including Barclays Africa Finance and Aon Risk Management Services, have received IFSC certification. Regional banks, fund managers, a credit rating agency, investment management firms, hedge funds and software companies are among them, while a major business process outsourcing call center and a German telecom firm are said to be engaged in a site selection process.

Botswanan President Festus Mogae says the fundamental aim of the IFSC initiative is to establish in Botswana a world-class hub for cross-border financial services with a view to creating job opportunities for the increasing flow of educated graduates from our educational institutions, developing new skills and technologies, and creating linkages with major institutions in this globally traded business.

Lipalesa Siwawa, CEO of Capital Securities, a Botswana-based stock brokerage house, says, What needs to happen in order to attract even more companies is for government institutions to have the same mindsets as the companies coming to the IFSC, and they must also have systems in place to match those of the companies coming in.

According to Letsebe Sejoe, marketing executive for the IFSC in Gaborone, the government is already addressing these issues. The government is formulating a national ICT policy, among various other aims, to establish a leading-edge legal and regulatory environment to enable data protection and provide cyber security, says Sejoe, who adds that the ICT policy also seeks to pave the way for telecom sector liberalization: More recently, the government invested significantly on upgrading the telecom infrastructure.

Sejoe explains that the telecom initiative aims to link the countrys telecom network to underwater cables on the eastern and western African coasts, supporting the existing link into South Africa and further enabling more competitive telecom rates and greater reliability. Negotiations between the IFSC and telecom provider BTC are ongoing with an objective of offering IFSC accredited companies more competitive billing rates, says Sejoe.
The issue is a crucial one if Botswana is to compete with South Africa and Mauritius as a regional financial hub, as local start-up and operating costs are generally higher than in the two neighboring countries. This is due mainly to higher utility rates, while transportation costs in the landlocked nation are also high. For Sejoe, Botswanas low-wage environment, low taxes, absence of foreign exchange controls and lack of equity participation requirements offset any cost differentials. Among IFSC clients, a large portion is from South Africa and they seek to take advantage of [Botswanas] sound legal and economic environment, says one Washington-based Africa observer. Mauritius operates a large offshore financial sector that has benefited from its bilingual culture to attract clients from both Anglophone and Francophone countries, but there exists room for Botswana to specialize and attract clients who prefer to operate exclusively within a legal system based on British Common Law.

Progress Needs More Focus


The World Economic Forums Africa Competitiveness Report for 2004 ranked Botswana as the most competitive among 25 African countries. The 2004 Economic Freedom of the World index, produced by Canadas Fraser Institute and the USs Cato Institute and which rates the degree to which policies and institutions are supportive of economic freedom, ranked Botswana number one in Africa, and the country also fared best among its neighbors in Transparency Internationals corruption index, sharing the same rating as Taiwan.

Naturally, there is still work to be done to attract investors. While most IFSC applications are reviewed within four to six weeks, for example, setting up a local company can be a lengthy process. The World Bank has cited the slow processes in securing licenses and work permits as an impediment to FDI, noting that it takes an average of 108 days to launch a business in Botswana, compared with a regional average of 64 days and an OECD average of just 25 days.
The IFSC is already putting Botswana on the radar screen for investors, but according to Moodys there needs to be greater focus for such efforts to bring long-term benefits even outside the IFSCs scope. While the foundations for diversification have been established, the governments strategy could benefit from more clarity and focus, said the rating agency in a report late last year. This is especially true in terms of identifying the types of companies that could be attracted as logical entrants to the market in terms of complementary production that could build on existing strengths.


Santiago Fittipaldi