A volatile economy shows a bit of pace as exports grow and politics remains calm.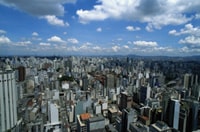 International banks are gradually reopening Brazilian trade-finance facilities that were largely shuttered last year, following the Argentine financial crisis and during a nerve-racking run-up to Brazils October 2002 presidential election.

Fears of an impending war in Iraq and uncertainties about the US economy also contributed to an atmosphere of global risk aversion in 2002, leading many banks to cut credit exposure to Brazilian financial institutions.

All of the major banks in Brazil had a big drop in trade-credit lines last year, says Augusto Brauna, Brasilia-based managing director in charge of the international division of Banco do Brasil, the countrys largest bank.

Confidence in the Brazilian economy is returning, however, as the new government of President Luiz Incio da Silva of the leftist Workers Party conveys a sense of economic responsibility to the international community, Brauna says.

Banco do Brasil has seen an increase in its trade-credit lines of 30% to 40% from December 2002, he says.

Spreads are narrowing and tenors are increasing, but the price is still a bit high, he adds.

Record exports of $60 billion provided the main engine of growth for the Brazilian economy in 2002, with the countrys trade surplus soaring to $13 billion, more than five times the surplus for 2001. The improvement was due in part to the 34% slump in the value of the real last year, which made Brazils exports more competitive in global markets.

The trade surplus narrowed slightly in February 2002 from the previous month, as imports rose faster than exports, and as the real strengthened in the foreign exchange market.

It is only natural that Brazilian companies are resuming spending on capital-goods imports in a growing economy, says Brauna of Banco do Brasil. However, exports will grow at a faster pace than imports this year, and the trade surplus will be even bigger than last years $13 billion, he predicts.

The Brazilian government is making a major effort to promote exports, which is also the focus of Banco do Brasil, Brauna says.

Brazils agribusiness trade surplus totaled $3 billion in the first two months of 2003 on the back of big increases in exports of soybeans, beef, and pulp and paper. Brazil is also the worlds largest exporter of coffee and orange juice. The agribusiness surplus is forecast to rise 11% to $22.5 billion in 2003, according to the Agriculture Ministry.

Meanwhile, the International Finance Corporation, the private-sector arm of the World Bank, in a joint effort with the Inter-American Development Bank, concluded syndication in April 2003 of an oversubscribed $180 million trade-finance facility for Banco Bradesco, Brazils largest private-sector bank, to fund exporting companies. The facility was originally targeted to raise $150 million. It included $120 million of funding from 16 international commercial banks.

The successful transaction indicated that the market for short-term trade credit is gradually improving, according to Suellen Lazarus, director of IFCs syndication department. We received indications from the banks that bilateral lines for trade-finance activity in Brazil that were withdrawn last year are beginning to be re-established, she says. If this trend continues, it will allow IFC to refocus its efforts on the more-traditional pursuits of medium- to long-term corporate and project lending, as well as structured-finance transactions that promote domestic capital-market development, Lazarus says.
During a visit to the So Paulo Stock Exchange in April, Finance Minister Antonio Palocci said a weak US dollar would have no effect on Brazilian exports. According to Palocci, Brazil will continue to win export markets through gains in productivity and quality.

Gordon Platt