J.C. Penney struggles to avoid the fate of Sears and Toys "R" Us.
Retailer J.C. Penney has poached Jill Soltau, president and CEO of JoAnn Stores, to be its fourth CEO in six years and fifth in the past decade. It's widely perceived as a positive move for the venerable but struggling department store chain, which is trying to find a path back to profitability in the shadow of the bankruptcy of its longtime rival, Sears, Roebuck.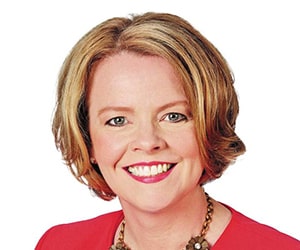 "This is exactly what J.C. Penney has been missing and needed to do," says Neil Saunders, managing director at GlobalData Retail. Soltau "has extensive retail management experience and has worked for a whole host of firms, from Sears to Kohl's to Shopko to JoAnn. She has direct experience of apparel—and given that clothing is the area in most need of attention, this expertise will be extremely valuable. She is extremely customer-centric and will put the shopper at the heart of decision-making."
Soltau's strategic skills helped JoAnn adapt and compete in the digital age, as she transformed it from "a slightly old-fashioned fabric store to a modern store selling a whole range of crafting products and solutions," according to Saunders. "This ability to drive through change will be beneficial," he notes. "This is the kind of appointment J.C. Penney has been crying out for."
Soltau's new employer urgently needs to restore investor, creditor and shopper confidence. In August, J.C. Penney revealed it had just $182 million in cash left, 42% less than a year earlier. Top of the long-term to-do list, however, is figuring out what audience it can target most successfully.
To all appearances, J.C. Penney, like Sears, is a legacy retailer with its best days behind it. Saunders favors J.C. Penney to beat the odds, especially with Soltau at the helm. "J.C. Penney has a chance to survive," he says, "but it has to act fast as its financials are in a poor state and it needs to get back onto stable ground quickly. This will require a lot of focus and effort, but it can be done."