Growing international sanctions are raising pressure on the island nation, which relies heavily on imports to power its enormous economy, to exit Russian projects.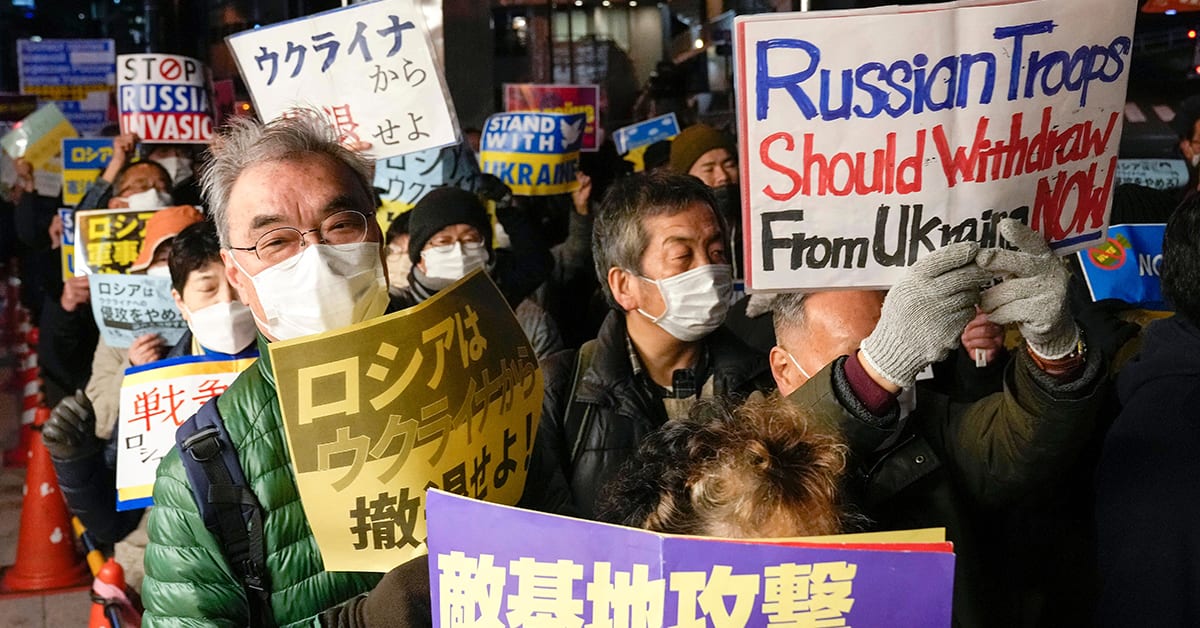 Japanese companies are considering pulling out of energy joint ventures with Russia following its invasion of Ukraine. This comes in the wake of a raft of sanctions against Russia announced by G7 member states, including the UK, the US and Japan, and major corporations from some member countries reaching for the exit. Will Japanese corporations follow? Not yet, according to the government.
"The government will deal with the matter appropriately while continuing to cooperate with the international community, including G7 nations, from the standpoint of energy security," Chief Cabinet Secretary Hirokazu Matsuno said March 1.
And yet, pressure from abroad is growing on Japanese corporations to exit Russia's energy sector. On the same day as Matsuno's comments, British oil and gas multinational Shell said it plans to sell its 27.5% stake in the Sakhalin-2 energy project, an oil and gas development on Russia's Sakhalin Island, which lies between the Sea of Okhotsk and the Sea of Japan, and just off Japan's northernmost coast.
And just before that, on February 28, BP said it will stop oil and gas operations in Russia; the British energy conglomerate intends to sell its 20% stake in Russia's state-owned energy company Rosneft, a move that came days after Germany announced it will halt the Nord Stream 2 project, a natural gas pipeline between Russia and Germany.
These exits leave Japan in a tricky situation because of the country's deep energy relations with Russia: "It puts Japanese companies in quite a difficult position, because they are actively involved in the Russian market, and they are directly involved in these same projects," explains James Brown, an associate professor at Temple University, Japan, and a Russo-Japanese policy expert.
Sakhalin-1, for example, a sister project to Sakhalin-2, is an international consortium involving Russia's PJSC Rosneft Oil Company, America's ExxonMobil Corporation, India's ONGC Videsh Limited, and Japanese government-backed SODECO Consortium.
SODECO's partners, Marubeni Corporation, Itochu Corporation, the Japan Petroleum Exploration Co., and Japan Oil, Gas and Metals National Corporation (JOGMEC), have a combined 30% stake in the project, representing one of the largest foreign direct investments in Russia.
JOGMEC, also a Japanese government-backed consortium, which includes Mitsui & Co, owns a 10% stake in the Arctic LNG 2 Project, a major liquified natural gas (LNG) development on Gydan peninsula, Russia. The project's major shareholder, with a 60% stake, is Russia's gas producer Pao Novateck, while JOGMEC holds a 10% share. The Arctic LNG 2 project is set for launch in 2023.
Analysts say pressure from abroad—rather than, say, domestic political activism, as has been the case in other G7 countries—may be the determining factor for Japan to abandon the upcoming Arctic LNG 2 project, and to terminate ongoing engagements with Russian energy. "I think we can expect to see [Japan's western partners] starting to ask: 'Well, if we are starting to withdraw, why aren't you—Japan, as a G7 member—doing the same thing?'" Brown says.
But there are good reasons why Japan may be reluctant to sever its energy relations with Russia, especially as it pertains to LNG, not least of which is to ensure energy security. After all, Japan is poor in natural resources such as oil and gas: ranking 34th among OECD countries, Japan had an energy self-sufficiency ratio in 2015 of 7.4%—compared to Norway (702.6%), the US (92.2%), the UK (65.8%) and South Korea (18.9%)).
Furthermore, Japan is the largest importer of LNG, importing 74 million tons in 2020, around 21% of the world's net LNG imports (356 million tons). That's 3.2 trillion yen ($30 billion) worth of gas. Indeed, when global energy production slumped in all sectors—fuel oils, city gas, LNG, and electricity—due to the pandemic-related recession in 2021, LNG recovered quickly, plugging gaps in Japan's energy needs.
However, Japan's energy dependence on Russia—and the effect of pulling out of energy joint ventures there—may be overblown. "The broader effect on Japan, I think, shouldn't be exaggerated," Brown says. "The level of Japan's energy dependence on Russia is nowhere near as high as that of countries in the European Union, for example." In 2021, 45% of the EU's total gas imports came from Russia.
Meanwhile, in 2019, Japan's top five LNG imports sources by percentage were Australia (39%), Malaysia (12%), Qatar (11%), Russia (6%) and the US (5%). As the world's fourth-largest crude oil importer in the same year, Japan bought primarily from Saudi Arabia (36%), UAE (29%), Qatar (9%), and Kuwait (8%). Russia was only fifth (5%).
The question arises: Amid a growing Russia-Ukraine crisis, should Japan pull the plug on its energy ventures with Russia, especially those, such as the Arctic LNG 2 Project, that are yet to begin? Brown thinks they should: "One argument that Japan has been making is energy security. Now, that's a better argument with Sakhalin-1 and 2; I'm not sure it's a convincing argument, but it's a better argument with those projects—because they're already producing energy. It's much harder to justify a deepening of Japan's involvement by continuing with a project, such as Arctic LNG 2, that's not even begun yet."
Analysts say Japan's reluctance to unwind its energy entanglements with Russia may be as much about psychology and history as about energy. The Sakhalin-Hokkaido Gas Pipeline, which was proposed in 1974 but cancelled in May 2021 after decades of failed negotiations over disputed islands between Russia and Japan. The global oil crisis of the 1970s still looms large in the minds of public and policymakers.
"They have strong memories of the oil shock of the 1970s, and the big impact that it had," Brown says. Since then, Japan moved to diversify its energy sources, and made a push for nuclear energy. Until, that is, the 2011 triple disaster of earthquake, tsunami and nuclear crisis at the Fukushima Daiichi Nuclear Power Plant.
"Japan used to be much more heavily reliant on nuclear power. But, as a result of the Fukushima disaster, the use of nuclear power fell a great deal, and that was made up for largely by hydrocarbons and more coal and gas," Brown adds.