NEWSMAKERS: UNITED STATES
By Gordon Platt
Jon Corzine, the former governor of New Jersey and once a US senator, believes that a man's word is his bond.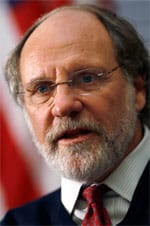 Fallout from MF Global raises concerns over CFTC watchfulness
When Europe's Financial Stability Facility (EFSF) guaranteed the bonds of Italy, Belgium, Spain, Portugal and Ireland, he figured they were a safe bet. Sadly, he was wrong. As the price of these sovereign bonds continued to slide, more and more collateral was required to finance the position his firm had leveraged.
Corzine, the former CEO of Goldman Sachs, should have known better than to allow MF Global, a much smaller firm, to place a $6.3 billion bet on a "repo-to-maturity" contract on European debt, which was widely considered to be risky.
To his credit, Corzine left a $12 million severance package behind when he resigned on Nov.4 as CEO of bankrupt MF Global. "I feel great sadness for what has transpired at MF Global and the impact it has had on the firm's clients, employees and many others," Corzine said.
Emotions aside, the downfall of MF Global under Corzine's watch raises numerous questions about how the US financial system is regulated and whether investors should trust their funds to Wall Street. The Commodity Futures Trading Commission (CFTC), overburdened and short of funds and staff as it writes new regulations, failed miserably in the case of MF Global. Hundreds of millions of dollars of customers' funds went missing as the notion of "segregated accounts" was apparently ignored.
Gary Gensler, the CFTC chairman, who was a colleague of Corzine's for 18 years at Goldman Sachs, rightfully recused himself from the MF Global investigation so as not to be a "distraction." Three years after the fall of Lehman Brothers, questions are rife about how much has really changed on Wall Street.
Corzine, who hosted a $35,800-a-head fundraising dinner in New York this year for president Barack Obama's reelection campaign, was once considered a front-runner to replace Timothy Geithner as treasury secretary after 2012.