NEWSMAKERS: US/UK
By Gordon Platt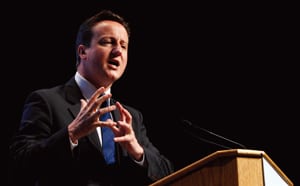 Speaking out: Cameron voices support for beleaguered BP
BP still hadn't plugged that hole yet in the deep-sea floor of the Gulf of Mexico by the end of June, as the Atlantic hurricane season got under way. The company's shares had lost half of their market value since the worst oil spill in US history began on April 20, when an explosion on the Deepwater Horizon offshore rig took 11 lives.
In the United States, President Obama's Katrina came early, as residents of the US Gulf Coast complained that the government wasn't doing enough to help them cope with the disaster, which was destroying their livelihoods. Across the pond, David Cameron, the recently elected UK prime minister, was dealing with worries about the future of BP, one of Britain's biggest companies. At the conclusion of the G20 Summit in Toronto in June, Cameron said BP's good health going forward is in the best interests of both the US and the UK.
BP "wants to compensate [the US], particularly the fishermen, the hotel owners, the people who have suffered," Cameron said. "It knows that it is going to have to pay out a huge sum of money, but what it wants is some certainty, and what we all want is for this important company to be strong and stable."
The US also has good reasons to want to keep BP afloat. "There is absolutely no sense at all [in] driving BP into bankruptcy," says Kenneth Feinberg, the US official overseeing a $20 billion oil-spill cleanup fund created by BP. After all, if the company were to file for Chapter 11 bankruptcy protection, who would compensate the residents of the US Gulf Coast?
BP denies that it is considering the possibility of bankruptcy or of spinning off its US operations to limit its liability. The company still has strong earning capability and investment-grade ratings from the major rating agencies. Once BP is able to stanch the flow of oil from its ruptured well, it will gain some certainty about the future costs it faces. The effects of the spill will continue to be felt for many years afterward, however, both on BP's balance sheet and on the ravaged environment of the Gulf of Mexico and nearby coastlines.