PepsiCo's CEO Indra Nooyi steps down.
A Barcelona native, Ramon Laguarta served in a variety of sales and marketing roles for lollipop-maker Chupa Chups before joining PepsiCo in 1996. Next month, he takes the reins of the beverage and consumer packaged goods giant from Indra Nooyi, officially becoming the sixth CEO in the company's 53-year history.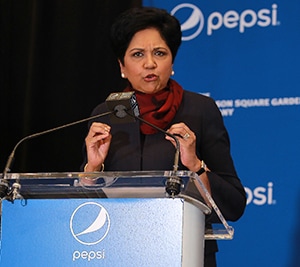 A graduate of Spain's ESADE Business School who speaks six languages, Laguarta's impressive rise to the top picked up pace in 2015, when he was named CEO of Europe and sub-Saharan Africa, considered one of PepsiCo's most complex divisions. Two years later, he moved to the US, where he was appointed president of the corporate parent.
Now the 54-year-old executive faces the difficult task of replacing Nooyi, who is credited with leading a strategic and highly successful shift away from salty snacks and sugary drinks toward healthier options during her 12 years at PepsiCo. Laguarta has already indicated his intention to continue tapping into health trends; but he will have to play catch-up with Coca-Cola, which has a market capitalization consistently 20% greater than its rival.
"The beverage sector is especially very effervescent these days," quips Jordan L. LeBel, professor of marketing and director of the John Molson Executive MBA Program in Montreal. In the short term, Laguarta has set himself the challenge of growing sales at 5% for the current year, up from 2.3% in 2017.
To grow at that rate, some aggressive portfolio engineering may be required, as well as expanding the company's global footprint. "Addressing portfolio issues, in particular, will likely be a challenge," says LeBel. "Under Nooyi's leadership, the company developed or grew many successful brands; and that has to be kept up while tapping into trends and new consumer preferences. On a different front, the nagging question of company split—meaning beverages versus snacks—will likely resurface and need to be addressed."