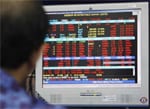 Crunching the numbers: Businesses are preparing themselves for difficult times ahead.
Much of the coverage on the credit crunch has focused on the impact it is having on banks and capital markets, but in a series of surveys conducted throughout September and October, Global Finance surveyed 20,000 of its subscribers to gauge how the crunch is affecting companies in the real economy.
The more than 800 individuals that responded expressed concerns, but there was not widespread panic. Corporate confidence levels varied depending on the timing of the survey. By the time of the second survey on October 7, during the peak of the crisis, confidence levels had declined, with 33.4% (compared to 30.7% in the September 24 survey) saying their companies' prospects were worse or much worse than six months ago. Much of the pessimism came from larger companies (36% said that their situation was worse or much worse, compared to 32% of small companies).
The survey showed there has been a sharp decline in credit availability for customers. By mid-October 40% of companies had tightened their customer credit policies and were giving customers less credit. Much of the belt tightening was in the financial services sector, with 50% of financial institutions saying they had tightened customers' credit. More than half of Asian companies indicated they had tightened customer credit. A higher percentage of Asian respondents (44% by the time of the last survey) also indicated that they were paying bills more slowly.
Corporate sentiment differed depending on where companies were located. In the October 7 survey, around 40% of North and South American companies said the current situation was worse or much worse for their companies than six months ago. Only a quarter of European and Asian firms said their situation had worsened. But as the credit crisis became more global, the proportion of firms in Asia and Europe saying the situation had worsened rose to over 30%.
There were also marked differences between Europe and North America in terms of how long companies expected the crisis to last, with 36% of European companies saying it would last for two years, while 38% of companies in North America believed the crunch would last for only 12 months.
Global Finance will be repeating this survey periodically over the coming months. To participate, please forward your email address and your name, company and job title to surveys@gfmag.com.
Anita Hawser