RUSSIA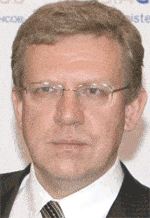 Finance minister,

Alexei Kudrin

In mid-August Russia completed the early repayment of its Soviet-era debt to the Paris Club, after submitting $22.5 billion in payments, marking an end of an era and underscoring the dramatic recovery in the Russian economy. Foreign debt as a share of GDP stands at just 9%, compared with 146% at the time of the 1998 financial crisis. Foreign reserves, at around $275 billion, are the third largest in the world. Few market participants expect an upgrade in Russias sovereign rating (from Standard & Poors BBB or Moodys Baa2), though, in light of continued political and policy concerns on the part of ratings agencies.

President Vladimir Putin is not helping allay outsiders concerns. In late August he publicly warned finance minister Alexei Kudrin about the dangers of ruble appreciation, which increasingly threatens to undermine the competitiveness of the natural resources sector. With inflation running at roughly 10% per year and liquidity high, Russias central bank subsequently announced that it would hike the minimum reserve requirement on liabilities of local banks toward non-resident banks from 2% to 3.5% to limit ruble speculation and appreciation.

Putin did get some good news, though, when, in a near-complete reversal of Ukraines 2004 Orange Revolution, Ukrainian president Viktor Yushchenko nominated former presidential election foe Viktor Yanukovych as prime minister. The move, made out of political desperation, was widely interpreted as being the first step in a shift of Ukraines focus away from the West and back to Russia.

Putin also seemed still to be getting his way in the long-running Yukos affair. Weeks after the resignation of the head of the former Russian oil giant and the liquidation of the company was ordered, Russian authorities launched a criminal investigation of four former Western executives of the company.

A series of foul-ups in the implementation of a new system of excise stamps for imported alcoholmost notably an insufficient number of new stampsresulted in the disappearance of foreign liquor from shop shelves throughout Russia for much of the summer. Consumers sampling locally made tipple in greater numbers did little to staunch the crippling losses suffered by retailers, underscoring the continued uncertainty that plagues the Russian business environment.


Kim Iskyan