Daniel Zhang takes the reins from Jack Ma.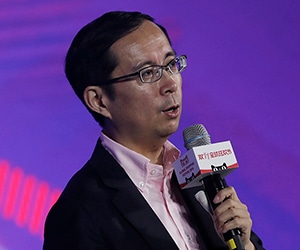 "I would rather die on the beach than in my office," Alibaba chairman Jack Ma said at a conference in Detroit in 2017. So on September 10, the day of his 55th birthday, during a four-hour extravaganza of songs and fireworks at the Olympic stadium of Hangzhou, China's richest man announced his official retirement from the company he founded 20 years ago out of his apartment. Taking the mantle from Ma is CEO Daniel Zhang, 47, who will now shoulder the burden of managing the $450 billion e-commerce juggernaut on his own.
Born and raised in Shanghai and with a bachelor degree in finance, Zhang held positions as an executive for PricewaterhouseCoopers and game developer Shanda Interactive before joining Alibaba in 2007 as chief financial officer of the subsidiary Taobao Marketplace. Often described as low-key and a workaholic, Zhang might not have the outgoing charisma and the flamboyance of Ma—yet his talent and ambition are similarly outsize.
"Daniel Zhang is one of the smartest corporate leaders in China today, and Alibaba is in terrific hands under his leadership," says Anindya Ghose, the Heinz Riehl Professor of Business at New York University's Stern School. "Daniel epitomizes a great blend of vision and execution, with a deep understanding of AI. He is the one who came up with the concept for Alibaba's supersuccessful 11.11 Singles Day, which turned out to be a shopping gala larger than both Cyber Monday and Black Friday in the US combined," Ghose adds.
The company's numbers are indeed impressive. Today, the e-commerce powerhouse caters to more than 600 million Chinese customers and employs over 100,000 people. The company has also branched out into markets as diverse as e-payments, cloud computing and digital media, and shows no sign of slowing. During the most recent April-June quarter, Alibaba generated revenues of 114.92 billion yuan ($16.2 billion), up 42% from a year earlier.
Zhang won't have it easy. "Globalization has always been Alibaba's long-term strategy," he wrote last year in a letter to shareholders. Amid trade tensions between the US and China and the general slowdown in the global economy, world domination might have to wait a little longer.