CORPORATE FINANCING NEWS

By Gordon Platt

Technology, media and telecomsthe TMT sectoris enjoying a surge in deal activity this year, even as the value of worldwide mergers and acquisitions is slumping, particularly in Europe. The first half of this year was the busiest for TMT deals since 2008, whereas global M&A had its slowest opening six months since 2009.

TMT deals accounted for nearly 22% of global M&A by value in the first half of 2013, up from 13% in the same period a year earlier, according to a report by Mergermarket. In July the TMT market share jumped to more than 38% with the $35 billion merger of Omnicon of the US and Publicis of France, to create the largest advertising company in the world, with considerable strength in digital advertising.
The value of worldwide M&A declined 13% in the first half of this year from the same period of 2012, according to Thomson Reuters. The total value of deals in the Americas fell 10%, while Europe recorded a 40% decline and deals in the Asia-Pacific region slipped 3%.


WIRELESS WAVE


A series of mobile telecom deals enlivened worldwide M&A activity in July. In the US, AT&T agreed to acquire San Diego, Californiabased Leap Wireless International, which operates under the Cricket prepaid wireless brand. The proposed $1.2 bil-lion deal faces scrutiny from the Justice Department, which blocked AT&Ts bid to buy T-Mobile 18 months earlier.
AT&T is eager to obtain Leaps valuable spectrum. The combined company will have the financial resources, scale and spectrum to better compete with other major national providers for customers interested in low-cost prepaid service, AT&T said in a statement.
In Europe, Telefnica of Spain and its German-listed subsidiary Telefnica Deutschland agreed to acquire E-Plus Mobifunk, the German subsidiary of KPN of the Netherlands, in a deal valued at more than $8 billion.


GERMAN STRENGTH


Such a large purchase may look strange against the background of Telefnicas debt-reduction efforts, says Rosalind Craven, senior research analyst for mobility at IDC in London. However, Germanys mobile market stands out as one of the strongest and most stable in Europe. IDC expects the high-margin German mobile market to have relatively flat growth over the next five years, whereas the majority of Western European countries will experience a notable decline in mobile-service revenues.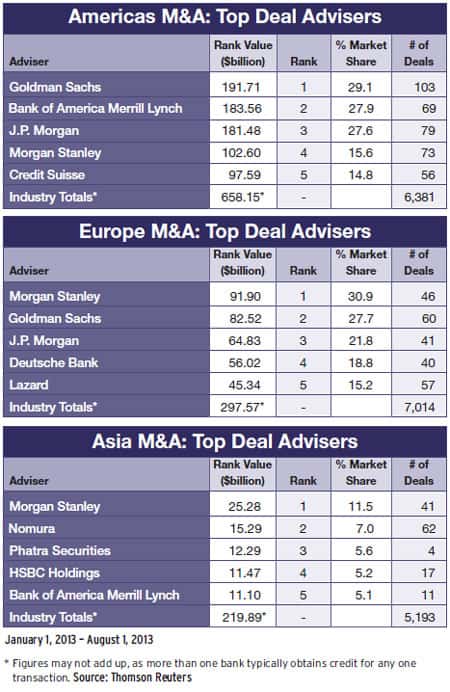 Meanwhile, Nokia of Finland announced that it would buy out its joint venture partner, Siemens of Germany, in Nokia Siemens Network, which focuses on mobile broadband equipment. The $2.2 billion deal could help Nokia offset losses from its handset business.
In Asia, Baidu, which operates Chinas biggest search engine, agreed to acquire 91 Wireless Websoft, a mobile-app distribution company, for $1.9 billion from Hong Kongbased NetDragon, one of Chinas online gaming operators. The purchase would give Baidu control of a main rival to its own Qihoo 360 Technology app store.
In the US gaming sector, Activision Blizzard, the worlds largest interactive entertainment publishing company, announced plans to become an independent company by buying back a 38% stake from Vivendi, its majority shareholder, for $5.8 billion. At the same time, an investment vehicle led by Activision Blizzard CEO Bobby Kotick and co-chairman Brian Kelly agreed to buy a 25% stake for $2.3 billion. Activision Blizzard publishes the popular World of Warcraft online multiplayer game, which has about 7.7 million subscribers.
Elsewhere, Turkeys ukurova Holding won more time from a British court to pay nearly $1.6 billion to recover a 13.8% stake in Turkcell from Russias Alfa Group. Alfas Altimo subsidiary seized the stake in Turkeys largest mobile-phone operator, claiming that ukurova defaulted on a 2005 loan. The Turkcell shares were pledged as collateral.