Saudi Arabia's ambitious solar power plan—powered by money from Japan's Softbank—isn't just a money-making exercise given the country's rising electricity demands.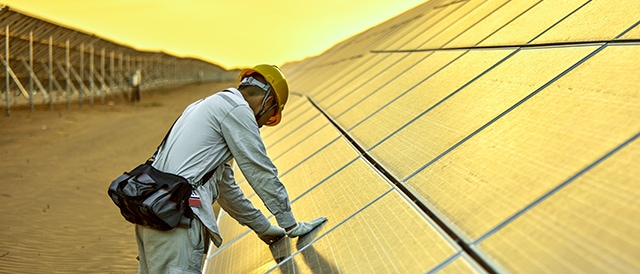 On the New York leg of his recent three-week US tour, Saudi Arabia Crown Prince Mohammed bin Salman announced a $200 billion deal with Japan's SoftBank to build the world's largest solar-power project. While the agreement is a non-binding memorandum of understanding, the project—which calls for plants spread throughout the kingdom—could turn the relentless Saudi sunshine into electricity as early as next year.
Despite its eye-popping price tag, the deal isn't the biggest venture announced to date by the 32-year-old heir apparent, who leads the kingdom's Vision 2030 modernization program. Last October, he announced a $500 billion plan to build a futuristic city, Neom, straddling the borders of Saudi Arabia, Jordan and Egypt.
While the kingdom is known for overpromising on long-term projects, the push into solar power could be necessary to meet the country's rising energy demands while saving valuable crude oil for export. Saudi Arabia currently generates most of its domestic electricity from oil-fired plants.
The solar project, if completed, would supply 200 gigawatts of electricity by 2030, enough to meet all of the kingdom's power needs, with some left for export. The first phase of the project, for 7.2 gigawatts from two plants, is expected to go online in mid-2019. The first $1 billion will come from SoftBank's Vision Fund and the remaining $4 billion from project financing.
While the first solar panels will be imported from China, Saudi Arabia plans to build its own factories to make photovoltaic modules in the future. The kingdom also wants to become involved in solar research and development, including battery technology.
"Importantly, these projects will help create up to 100,000 direct and indirect jobs in the kingdom," according to the Saudi embassy in Washington. "Additionally, they will increase the GDP by $12 billion and save up to $40 billion annually."
In announcing the deal, SoftBank CEO Masayoshi Son said, "The kingdom has great sunshine, great size of available land and great engineers, great labor, but most importantly, the best and greatest vision."
SoftBank plans to invest $25 billion in Saudi Arabia in the next three to four years.