Argentina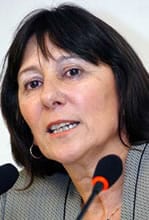 Miceli: Mobbed by investment bankers

Argentina once again lured investors with a new dollar-denominated bond issue in March, marking its second attempt to regain investor support since the sovereigns completion of a contentious $100 billion debt workout in February 2005. Though the government was forced to cancel a new issue in September after potential investors demanded yields as high as 9.5%, the latest issue enticed international banks and local pension funds.
The government sold $500 million of new 7% Bonar V bonds through a Dutch auction that set an 8.36% yield. Authorities had hoped to keep it below 8%. The Economy Ministry reported demand of $726 million. The issue, which matures in 2011, was the first tranche of a $1.5 billion Bonar V program. Market analysts contend Buenos Aires should take advantage of high international liquidity but must also consider the rise in US treasury yields in setting an issuance schedule.
The government issued the paper locally and under Argentine law in order to avoid potential litigation from holdouts from its debt restructure. The move made the bonds riskier than those issued under US or European laws, though investors were encouraged by Argentinas recent upgrade to B from B- by Standard & Poors. Market observers saw the issue as a way to gauge investor interest before placing new bonds on international markets, after Argentina had limited its debt placements over the past year to more than $1.7 billion in direct sales to the Venezuelan government.
Meanwhile, investment bankers attending the Inter-American Development Bank meeting in Brazil in April were seen swarming around Argentine economy minister Felisa Miceli, who later said she heard many offers to bring new issues to market. The government, however, says it is in no rush to issue new paper, after paying off its $9.1 billion IMF debt last year and readjusting its 2006 financing program.

Antonio Guerrero