United States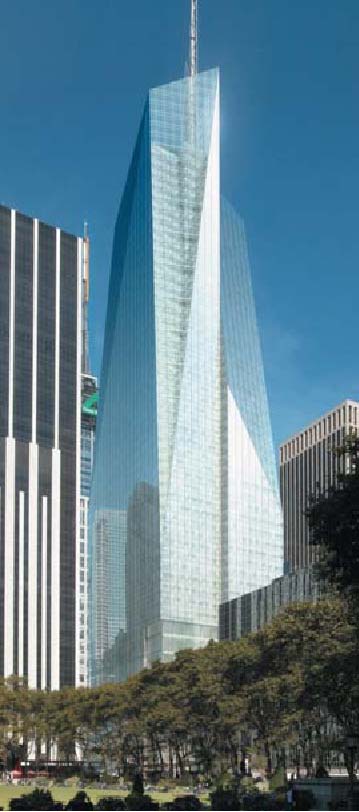 Bryant Parks new crystal palace

Displaying New York bravura, Bank of America broke ground on a $1 billion crystalline skyscraper in midtown Manhattan on August 2. It was the day after the federal government raised the terror alert level to code orange for financial-services sectors in New York City, Washington, DC, and Newark, New Jersey.

US Homeland Security secretary Tom Ridge said newly acquired information indicated that al Qaeda bombers were targeting the International Monetary Fund and World Bank headquarters in Washington, as well as the New York Stock Exchange and the Citicorp Center skyscraper in New York and the Prudential Financial building in Newark. New Yorks Republican governor George E. Pataki said Bank of Americas groundbreaking was a symbol of defiance to those who would have us live in terror or in fear. The 52-story Bank of America Tower at One Bryant Park will be the banks headquarters for its New York City operations and will house its global corporate and investment banking, wealth and investment management and consumer and commercial banking businesses. The building, which is being co-developed with the Durst Organization, is scheduled to open in 2008 and will include six trading floors. Cook&Fox; Architects said the Crystal Palace, the first glass-and-steel building in the US, which was constructed in Bryant Park in 1853, was the inspiration for the design of the new tower. Bank of America will occupy about half of the building and has committed itself to a 20-year lease. The bank says the tower will be the worlds most environmentally responsible high-rise office building.

The project will be financed in part by $650 million in Liberty Bonds, a joint New York City-New York state program to revitalize the city following the September 11, 2001, terrorist attack.

GP