IRAQ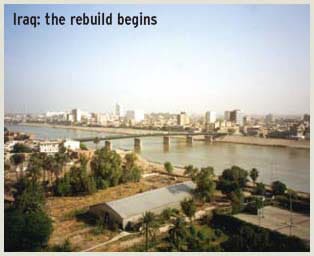 As the war in Iraq reached its apparent endgame in early April, the US Agency for International Development (USAid) began signing off contracts for companies to reconstruct and develop the country. Construction giant Bechtel won the first contract, a deal worth up to $680 million to patch up roads, schools and power plants damaged in the war.

Washington approved $2.4 billion relief funding from Congress in April, and USAid has also allocated resources to Iraq from its current budget. USAid has, unusually, been in the spotlight over the upcoming Iraq work since there is disquiet over how contracts are being assigned. Tenders had been privately invited from a small number of American companies months before the invasion began.

USAid insists that pragmatism alone accounts for this system: only a limited circle of companies could hope to take on the larger projects, there are problems of security clearance, and time is at a premium. Theres no bias, says a USAid spokeswoman. Its just the practicality.

However, an official at Washingtonbased Interaction, the USs largest alliance of development and humanitarian organizations, says that while not-forprofit organizations may not be able to execute mammoth engineering projects, they are being overlooked for other projects. Weve had decades of experience, he says.

Formally created by the Foreign Affairs Assistance Act of 1961, USAid traces its roots back to the Marshall Plan and post- World War II reconstruction efforts.

BBM