BRAZIL/BOLIVIA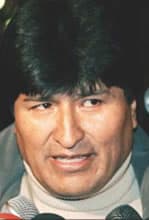 Morales: Driving a hard bargain

Hours after Bolivian president Evo Morales moved to nationalize his countrys gas and oil fields, Brazils state-owned Petrobras oil company suspended its Bolivian investment program and blocked funds to expand a gas pipeline between both countries.While Bolivia needs Petrobrass outlays, analysts note Brazil also needs Bolivias gas to fuel its industrial sector. The stakes in the standoff are high.
Petrobras accounts for 40% of Bolivias oil output and 57% of gas production. Since launching its Bolivian operations in 1996, Petrobras has invested some $989 million there, or 20% of Bolivias FDI flows over the past decade.Yet Morales charges that foreign oil and gas companies have evaded taxes and acted illegally, pointing to Petrobras as one of the main offenders.
During the May 1 Labor Day celebrations, Morales ordered all foreign oil and gas companies to sign new operating contracts within 180 days or exit the country.The new contracts force companies to turn over their output to Bolivias YPFB state-owned oil company for sale and industrialization and boosts royalties paid to the government, among other provisions.
After the order was issued, the Bolivian army occupied 56 exploration and production fields, including two Petrobras refineries.The government says it is willing to compensate Petrobras for the assets, but Brasilia has not taken the news well. Nevertheless, Morales has Brazil over a barrel, as Bolivian gas supplies fuel nearly 7% of Brazils energy production. Not surprisingly, industrialists are calling for an end to the standoff.
Brasilia has told Petrobras to find new suppliers to reduce the countrys dependence on Bolivian gas. For Brazilian president Luiz Incio Lula da Silva, the situation is particularly delicate, as any decline in economic growth could dampen his chances for reelection in October. On a personal level, Lula, who like Morales was elected on a populist political platform, may view Moraless move as a betrayal from a comrade whom he had publicly supported. Whether it will lead to a rift between the two remains to be seen.

Antonio Guerrero