UNITED KINGDOM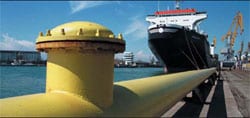 Down the tubes: Banks find principles are tough to apply

Just one year after signing on to the Equator Principles, the UKs Royal Bank of Scotland (RBS) has found itself at the center of a storm over the environmental impact of a major project it is involved in funding. RBS is one of several British banks that have been criticized in a report that accuses them of failing to put International Finance Corporation (IFC) project finance guidelines into practice.
Just over 12 months ago, 10 leading banks from seven countries endorsed the Equator Principles, a voluntary set of guidelines aimed at providing banks with a framework for managing the social and environmental implications of financing development projects. ABN AMRO Bank, Citigroup, RBS and Barclays were among the signatories. The principles assess the environmental and social impact, including land use, the impact on indigenous peoples and pollutionon all projects with a capital cost of $50 million or more. The report by
BankTrack, an international network of non-government organizations monitoring the Equator banks, concludes that implementation of the principles has been poor to middling and that many controversial projects, including the Baku-Tbilisi-Ceyhan (BTC) oil pipeline in Georgia and the Krahnjkar hydro project in Iceland, still went ahead virtually unaltered. One year on, we have to question whether this voluntary commitment to environmental good practice is worth the paper it is written on, Friends of the Earths Scottish chief executive Duncan McLaren says. BankTracks June report singled out UK banks RBS, Barclays, HSBC and Standard Chartered. Standard Chartered considered financing a dam project at Omkareshwar in India, Barclays financed the hydro project in Iceland, and HSBC is believed to be considering financing a copper mine, which poses a risk to the Amazon Basin. Critics claim the BTC pipeline violates the Equator Principles on more than 30 counts, and in recent weeks the Georgian government suspendedwork on the pipeline after BP was accused of breaching local environmental laws. RBS maintains that the pipeline complies with the Equator Principles, stating that the lending group of banks received the assurance of an independent environmental consultant and that it would continue to seek independent advice to ensure ongoing compliance. We are disappointed that BankTrack doesnt believe that the BTC project is compliant with the Equator Principles, an RBS spokesperson told Global Finance. We have made strenuous efforts to ensure it is fully compliant.

Anita Hawser