Spain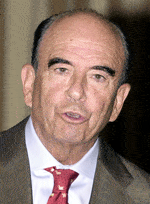 When BSCH, Spains largest bank, set out on a banking sector acquisition spree throughout Latin America a few years ago, many regarded its chairman, Emilio Botin, as a modern-day conquistador. Today, Botin rules over BSCH from Ciudad Grupo Santander, a corporate city that is the seat of his banking empire.
The empire now stretches throughout Latin America, where it won the battle with rival BBVA to become the regions largest banking group. Its 2004 acquisition of the UKs Abbey Nationalthe largest cross-border banking acquisition in the EUnot only expanded its European franchise but catapulted BSCH to the list of the worlds 10 largest banks.
BSCH reported total assets of nearly _360 billion at September 30, 2004. Of its more than 9,200 branches worldwide, some 4,000 are located throughout Latin America. Its workforce totals more than 103,000, of which 68% is located outside Spain in the empires territories.
Ciudad Grupo Santander lies 27 kilometers outside of Madrid in the town of Boadilla del Monte, which traces its history back to Roman times. The first phase of the bankers utopia cost _480 million, which the bank paid for by selling other properties. Consolidating a staff of 5,500 in the complex should save the bank _21 million in rent each year, since workers had been located in 23 different offices.
The corporate city, which opened in 2004 and is now celebrating its first anniversary, boasts the largest workplace daycare center in Europe, a modern training center, gymnasium with indoor pool, 18-hole golf course designed by Rees Jones, tennis courts, a 1,000-seat auditorium, shops and five restaurants. For workers not fortunate enough to have on-site housing, shuttle buses bring them in from Madrid. Most services are offered free of charge to Botins faithful subjects.
Quite fittingly, Botins 5,000-square-foot office is perched atop the complexs tallest building, topped by Spains largest glass dome. From there, the 70-year-old banker hopes to double his Latin American business within four years. Meanwhile, his old foes are plotting to take some market share as well. Et tu, BBVA?

Santiago Fittipaldi