China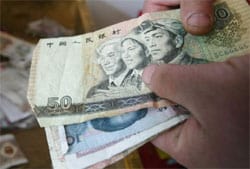 The Peoples Bank of China introduced new tightening measures to cool the property market last month, as the economy showed no sign of slowing and investment growth continued well above the governments target. The central bank increased the five-year benchmark mortgage rate from 5.31% to 6.12%. It also raised the required down-payment ratio from 20% to 30% in areas with rising prices.
The average price for residential housing rose 15.2% last year, much higher than the rise of other price indexes. A spokesperson for the central bank said that the rise in housing prices could lead to financial risks, and that the rate rise would help guide the housing sector down the proper track. These were marginal steps, according to analysts, who expect the PBOC to raise other rates soon to slow the economy. Last October, interest rates were increased by 27 basis points.
Chinas fixed investment rose at an annual rate of 24.5% in the first two months of 2005, still well above the governments 16% target. Along with other data reported for the period, it appears that Chinas economy is growing much faster than the government would like, analysts say.
Recent management changes at the countrys big state banks seem to suggest that the central bank is breaking down local governments resistance to tightening measures, according to analysts at HSBC Bank. This shows that Beijing is serious about reducing the excessive amounts of investment in the Chinese economy, they say.
Premier Wen Jiabao said last month that government planners face a multitude of problems as they try to keep the economy growing at a rapid but sustainable pace.
Some people strongly demand that we raise the yuans value, but they havent given much thought to what sort of problems would ensue, he said. This is very irresponsible.

Gordon Platt