Global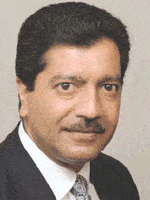 Narain: Transparency

needed

There has always been a kind of love/hate relationship between corporates and analysts. The leading FTSE companies are always happy when analysts talk up positive results and forecasts for their companies, but no one wants to deliver bad news to the analysts or the marketplace. According to Kevin Narain, managing director, Europe, for Parson Consulting, this reluctance to deliver bad news can prompt companies to try to manage analysts expectations so they can offer a positive surprise when they announce their results. Companies are often saying analysts dont understand them and they have a short-term view of profitability within an organization, says Narain. Yet if only corporates would consult more frequently with analysts and become more transparent, there would be less of a mismatch.
In its annual Hits and Misses study, Parson Consulting has tracked the accuracy of companies earnings-per-share (EPS) forecasts in terms of whether they met analysts expectations for the last three years, which has produced some interesting findings. Parsons found that just 14% of FTSE 350 companies EPS forecasts matched analysts forecasts in 2005. The study found that in 55% of cases FTSE 350 companies forecasts exceeded analysts expectations for 2005, and in 31% of cases FTSE 350 companies forecasts came in below expectations.
Forecasting accuracy was even lower in other markets. On the SBF 120 (France), the DAX 100 (Germany) and the HM (Hong Kong), less than 10% of companies EPS forecasts matched analysts expectations. The story was a lot different, however, in the US market, where 39% of S&P; 500 companies hit analysts EPS expectations in 2005, plus or minus a percentage.
Explaining the differences between the UK and the US, Narain says that because there has been more negative news surrounding corporate earnings in the US and high-profile company failures like Enron, bad news is much easier for US companies to swallow than, say, in the UK, where he believes companies may engage in what he calls sandbagging. There appears to be a culture of reluctance to give bad news, and companies hope to turn it around by hanging on to good news just in case something bad happens, he says.


Anita Hawser