EUROPE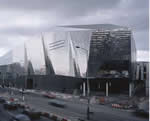 Cash is costly for Hammerson, developer of this UK cineplex
With headlines dominated by bank bailouts totaling billions of dollars, it's easy to get blasé about the scale of the challenge facing the global economy. Nevertheless, a new report from Goldman Sachs has caused a stir with a warning that European corporates need to raise more than E1 trillion in equity in order to get their balance sheets back in shape after years of bingeing on debt.
While that E1 trillion—equivalent to a staggering 25% of the market capitalization of European listed companies—is expected to be raised over a number of years, Goldman Sachs estimated that as much as E300 billion of new equity issuance could come to market in 2009 from European corporates. To put that in context, just E136.29 billion was raised in total equity issuance in 2008—much of that by banks. This year has hardly gotten off to a flying start. Despite relatively benign market conditions—compared to the crazy volatility of the third and fourth quarters of 2008—there had been just E1.808 billion of new issuance from 32 deals in Europe, the Middle East and Africa by early February compared to E4.872 billion from 58 deals in the same period of 2008, according to Dealogic.
Goldman Sachs' E1 trillion prediction assumes that European companies will cut dividends by 5% and capital expenditure by 10% while targeting net debt-to-equity levels similar to those achieved in the mid-1990s. However, the report notes that in the 1990s it took five years to reach the low and therefore concludes that companies are more likely to end 2009 with average gearing levels—requiring E100 billion to E300 billion in new equity.
The challenge, of course, is to find investors willing to stump up the cash. Many of the companies that most need the money to reduce gearing are the least attractive to investors. Consequently, companies are likely to have to pay dearly for new equity—as UK developer Hammerson found out in February when it was forced to offer a 65% discount to its share price for its £584 million cash call. Expect to see plenty of other companies offering deeply discounted offers in the months to come.
Laurence Neville