GLOBAL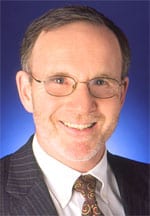 Deutsche Banks John Tierney

The credit derivatives market is set to continue to grow at a rapid pace in 2006 with an ever-widening base of financial institutions, and even some corporates, using the market, according to industry observers. The latest available figures, published by the International Swaps and Derivatives Association (ISDA) last September, show that credit derivatives grew by almost 48% in the first six months of 2005 from $8.42 trillion in notional outstanding contracts in the second half of 2004 to $12.4 trillion. But John Tierney, head of US credit derivatives research at Deutsche Bank, believes that volumes could increase by as much as $15 trillion in 2006. That would take the years total to $40 trillion. Some market observers believe total volumes in 2006 could be as high as $50 trillion.
We are in a relatively healthy credit cycle, and credit risk will remain at the single-name level for now, with little risk of becoming more systemic, says Tierney. He says that Japan and the rest of Asia, which currently account for 9% of global activity, will become more important in the global credit derivatives market in 2006. The increase in activity is likely to be fueled by changes made by financial institutions to comply with Basel II recommendations.
There had been concerns that growth in credit derivatives volume, much of which comes from credit default swaps, could be stalled by concerns about involvement in the market following the downgrade of Ford and General Motors in April and the resultant problems in the credit market.
However, the credit derivatives market appears to have been strengthened by the experience, and new entrantslargely pension funds and other institutional investorshave kept their nerve as the market has recovered.

Laurence Neville