Latin America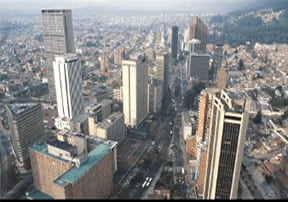 The US dollar may once have been the currency of choice for Latin American debt issuers eager to fill their coffers with the hard currency. But with the greenback turning soft, the region's issuers are beginning to issue debt abroad in their local currencies. Investors are eagerly buying the deals and creating demand for more.
In January Colombia returned to international markets by re-tapping its first-ever peso-denominated global issue launched last November. The debut deal raised the equivalent of $375 million, and the re-opening raised an additional $125 million. Investor appetite for the latest offering ran high, pushing the order book to $300 million.
Sources close to the deal report demand was strongest among US and European institutional investors seeking portfolio diversification and attractive yields. The government in Bogot said 53% of demand for the second tranche came from the US, with another 39% from Europe and 8% from Latin American buyers.
Peso issuance is part of Colombia's plan to cut its dollar-denominated debt to 40% of its debt stock by 2010, from a current 47%. The strategy, as for other Latin American governments, aims to create greater immunity from balance-of-payments crises that emerge when their own currencies weaken. In Colombia's case, this time around it was looking to slow the peso's rally against the dollar18% in 2004so as not to jeopardize exports.
Brazilian banks kicked-off the trend when they began offering real-denominated bonds last year. The pipeline for such deals is filling up nicely, and the Brazilian government itself is eyeing an issue for later this year. Bladex, the Panama-based supranational trade bank owned by the region's central banks, says it, too, is working with investment banks to put together a bond issue denominated in a Latin American currency, although it has not yet decided on which one.
Naturally, issuers must pay a premium for investors to take on local currency risk. The latest Colombia deal was priced to yield 10.75%. By comparison, its similarly dated dollar-denominated paper, maturing in 2010, yields just 6.99%.

Santiago Fittipaldi